I always say I
never
want to go anywhere with my kids by myself because it's too exhausting and too much trouble. I pay enough each month for my house, I might as well enjoy it, right? Well, today my husband was attending an all day seminar and then had a class immediately following in the evening. I forgot to send him off this morning with the library books that were due today, so I decided that when Rachel woke up from her nap I would put all the kids in the van and drop off the books.
We went to the library, returned the books, then we went to the children's section to do a little browsing. We collected a reusuable grocery shopping bag full of books and 5 DVD's and checked out. Thankfully they accepted my driver's license because I couldn't find my library card. When we were checking out I noticed it was raining. When we were finished checking out I noticed it was pouring. I slung the heavy book bag over the handle of the stroller, told Jason to put his cowboy boots back on his feet and stood there a moment to try to make a decision. My options were: 1) wait outside under the overhang and hope the rain would let up enough to make a run for the van, 2) go back to the children's section and wait for the rain to stop, 3) make a run for it in the pouring rain.
When I heard the loud thunder clap, I decided to wait it out in the children's section. The children played with the wooden puzzles. After each child did each puzzle, I checked with the librarian at the front desk to see if they had a back door that we might be able to use. Our van was parked in the back of the building where nobody usually ever parks because it was busy when we got there, which meant if we left the building from the front door we would have to basically walk around 3 sides of the large building to get to our van, meaning that we would be entirely soaked as well as the library books. You would think it would be in their interest to help me avoid the rain to save their precious books, but she told me there was an emergency door and a staff door then gave me an indication that there was a fat chance that we would be able to use either of those. However, she said that I could ask the staff back there and
maybe
they would help me. She didn't seem to want to be involved in breaking the rules.
So I walked back to the children's area where my not so quiet children were still playing and I chose to ignore the sign that read "Please assist us in the keeping the noise level down." Maybe that would get them to help me out the back door. While I stood there Emily said to me, "All the people here have umbrellas. Why don't we have an umbrella?"
"Because we're not that smart," I replied. But in my defense, when I checked weather.com this morning for the zip code in which I live there was NO rain in the forecast AND it was dry as a bone in our neighborhood when we finally got home. I didn't think to check the zip code only 10 miles from my house. But it's not like an umbrella would've been very useful anyway with the load I was toting with me.
I could see a patch of clear sky between the evergreen trees, but the rain continued to downpour . I got anxious to leave and wanted to see how helpful the staff in the back would be. So I gathered the kids and said, "Let's go for a walk." I approached the info desk and politely asked them if I could use the back door to get my six children to the van in this pouring rain because I did not have an umbrella. They grimaced and said, "We
really
aren't supposed to let you do that." I determined the key word was 'supposed' and repeated myself, "I have six small children, no umbrella, and I'm parked in the back of the building." Then I flashed them a look that said, "Please!" The young girl said with a sigh, "Ok. I suppose since it's raining."
So she took us back to the sacred back room of the library which happened to be a couple of offices and crates of books. Then she apologized to her boss for having to bring me back there but explained that I had lots of small children. Her boss seemed sympathetic and nice which surprised me because from the way the staff was so unwilling to help me, I imagined they were being managed by some ogre master libarian.
Meanwhile I couldn't find my keys. I knew I just had them. I searched my purse. I searched the diaper bag. I searched the book bag. I sent Emily to go look for them in the children's section. I searched for them in the children's section. Just when I got back to the staff room, Rachel leaned forward in the stroller and I saw my measuruing tape keychain sticking out from under her bum. I sat her on my keys when I put her in the stroller. Whoops. I thanked the girl several times for letting us use the back door and told the kids, "Make a run for it!" We sloshed through the puddles and got drenched anyway.
Then we went to Lowes. (The rain had stopped by the time we got there.) I have a couple of stories that irritated me there too. But I'll just say, "How in the world can you not know if you carry copper wire?!!" This is a home improvement store and you work in the electrical department!! Seriously there were 4 male employees all searching for copper wire. Is copper wire not a common thing? Because they sure make it seem like it is in all of these science books I'm reading. We finally found some suitable copper wire and some galvanized nails so we hopefully can get some electricity from a lemon.
So I'm back to thinking home is where the heart is. To think I did all this today to save $0.75.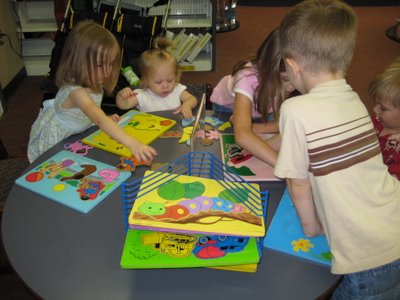 My camera kept me occupied for a few moments at the library.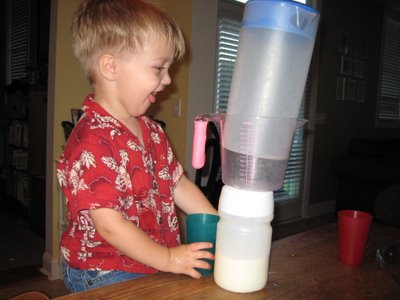 What a face! I think Jason looks a bit Muppetish in this picture, but he was so proud of his stack.