1. First of all let me just say how much I love clean toilets. When Emily asked me yesterday what we were doing for science this week, I told her Cleaning Science. With my husband working, I felt like I had the ability to regain control of my household domain. Not that he was begging to do cleaning chores while working from home, but being the only adult in the house now, I felt somewhat liberated and ready to take control. So on Monday we cleaned the kids' room. It was spotless. Then we cleaned the toilets. They are so sparkly clean! For some reason Emily loves to scrub toilets. She asked me questions while we cleaned such as, "Why are toilets so disgusting?" I started explaining more in depth about germs, mold, bacteria, etc. I explained that some bacteria are actually good and all that kind of sciency stuff. We talked about penicillin. I was feeling a little guilty about avoiding science camp in the name of "Cleaning Science", but when I sat down last night to look through my science book for the actual lessons I should be teaching this week I discovered that the next lessons were about fungus, molds, and bacteria. It turns out I was totally in tune with spirit of science! But anyway, I LOVE clean toilets. I just HATE cleaning them. Toilets are one of those chores I put off until I have guests or my gag reflex is triggered when I open the lid.
2. Little boys. Jason thought this was a good resting spot for the jug of pink lemonade. He didn't realize that a container of crayons doesn't make a good coaster. (Bradley rescued the jug before it had the chance to spill.)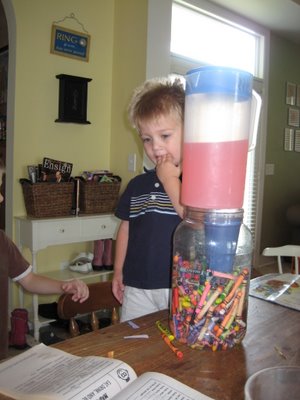 3. This evening we harvested a dozen green peppers. This one won the prize for beauty. (The pepper, not the husband.)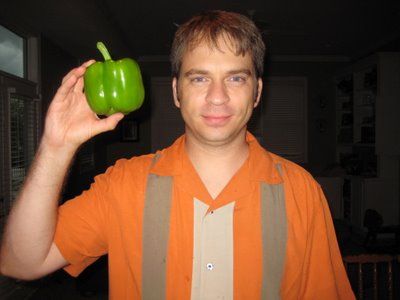 My husband also taught his first class today. In addition to his new temp job, he is working part time for the local technical college teaching HTML/CSS (geek speak). He had a great time. It's only 2 days a month, but fun. He had a whopping 3 students in his class and he taught them how to create a web page. Go big Daddy-O!