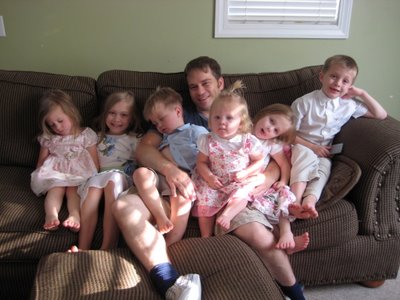 Happy Father's Day!
(A couple of them dozed before we took the picture. I had to prop Wendy up for the pic.)


Today I gave a talk in church. I should be good for at least a year now. Phew! I was given the topic "Strengthening Home and Family." I thought it was a good topic. When I began preparing I was going to pick three things to talk about. I was pondering Family Home Evening, forgiveness, and education. But after continuing to ponder and prepare I felt led to focus on Family Home Evening. So here is version of my talk without all the comments in between the quotes. If you are in another ward, you're welcome to use it anytime. Just send me a check for $19.95. Ha! JK! You can totally use it for free. It's basically a talk laden with quotes about FHE.

First I read exerpts from the original letter from the First Presidency (Joseph F. Smith) in 1915.

"Dear Brethren and Sisters:

"We counsel the Latter-day Saints to observe more closely the commandment of the Lord given in the 68th section of the Doctrine and Covenants: ... (which talks about teaching our children the Gospel.)

"...And they shall also teach their children to pray, and to walk uprightly before the Lord" [D&C 68:28]. ...

"...To this end we advise and urge the inauguration of a "home evening" throughout the Church, at which time fathers and mothers may gather their boys and girls about them in the home and teach them the word of the Lord. They may thus learn more fully the needs and requirements of their families, at the same time familiarizing themselves and their children more thoroughly with the principles of the gospel of Jesus Christ. This home evening should be devoted to prayer, singing hymns, songs, instrumental music, scripture reading, family topics, and specific instruction on the principles of the gospel and on the ethical problems of life, as well as the duties and obligations of children to parents, the home, the Church, society, and the nation. For the smaller children, appropriate recitations, songs, stories, and games may be introduced. Light refreshments of such a nature as may be largely prepared in the home might be served.

"Formality and stiffness should be studiously avoided, and all the family should participate in the exercises....

This last paragraph is good stuff:
"...If the Saints obey this counsel, we promise that great blessings will result. Love at home and obedience to parents will increase. Faith will be developed in the hearts of the youth of Israel, and they will gain power to combat the evil influences and temptations which beset them." (that part made me choke up a bit, because how awesome is it that we can have power to combat evil by having fun with our family?) ("Family Home Evening: Counsel and a Promise," Ensign, Jun 2003, 12)

Then I talked about the Who, What, Where, When, and Why of Family Home Evening:

WHO?

The First Presidency (Kimball) in 1976 said:
"Family home evening is for everyone. It is for families with parents and children, for families with just one parent, and for parents who have no children at home. It is for home evening groups of single adults and for those who live alone or with roommates. …"
(Family Home Evening: Happiness through Faith in Jesus Christ (1976))

Nobody is exempt or graduates from Family Home Evening.

WHAT?

What should we do at Family Home Evening?

Family Home Evening can include:


Opening song
Opening prayer

Gospel-centered lesson

by parent or older child. This is the most important part of FHE and should be age appropriate and engaging. You can use the church magazines and other church manuals for teaching.
Activity - can include games, service, or work (i.e. working in the garden or beautifying the home), or completing Duty to God and Personal Progress goals.
Closing prayer
Refreshments
Our family also includes:
family business such as father's blessings the week after a birthday and handing out of allowances to children 8 and over.
sharing of musical talents
self-timed family photo
Most importantly, Family Home Evening should be FUN. Our family has been guilty of dragging our lessons a bit too long to the point where we end up swatting children with the Gospel Principles book for climbing all over the furniture. That is bad. Make it fun.
WHERE?
Family Home Evening. Duh. ( I didn't really say, "duh.")
President Hinckley said:
"It was not to be a time to attend athletic events or anything of the kind. Of course, if there is family activity of such a kind occasionally, that may be all right. But in the increasingly frantic rush of our lives it is so important that fathers and mothers sit down with their children, pray together, instruct them in the ways of the Lord, consider their family problems, and let the children express their talents. I am satisfied that this program came under the revelations of the Lord in response to a need among the families of the Church."
(Gordon B. Hinckley, "Family Home Evening," Ensign, Mar 2003, 2–5)
It is not Family Movie Theatre Evening or Family Soccer Field Evening. It's Family Home Evening.
WHEN?
It was in 1970 President Joseph Fielding Smith and his counselors designated Monday as Family Home Evening.
President Hinckley said:
"Keep Monday night sacred for family home evening."
(Worldwide Leadership Training Meeting, June 21, 2003, 23)

Elder Costa of the Seventy said this past General Conference:
"Our children, just like their parents, have time demands on them in every aspect of their lives. They have activities involving church and school and friends. Many of our children are attending schools where they are the minority. Frequently the schools schedule events on Monday evenings—activities like sports, rehearsals or practices, choirs, and other events. We need to keep Monday nights free of other commitments so that we can have our family home evenings. No other activity is more important for our family."
(Claudio R. M. Costa, "Priesthood Responsibilities," Ensign, May 2009, 56–58)

They don't say Tuesday, Friday, or even Sunday because Elder Perry of the Quorum of the Twelve Apostles said:
"The Church has established two special times for families to be together. The first is centered around the proper observance of the Sabbath day. This is the time we are to attend our regular meetings together, study the life and teachings of the Savior and of the prophets.

"The second time is Monday night. We are to teach our children in a well-organized, regular family home evening. No other activities should involve our family members on Monday night. This designated time is to be with our families."
(L. Tom Perry, "The Importance of the Family," Ensign, May 2003, 40)

Gordon B. Hinckley said:
"[The Lord] expects us to have family home evening—one night a week to gather our children together and teach them the gospel."
(Gordon B. Hinckley, "Family Home Evening," Ensign, Mar 2003, 2–5)

He also urged, in the strongest terms possible, that fathers and mothers regard most seriously this opportunity and challenge to make of Monday evening a time sacred to the family.

Let us learn from President Hinckley's example:
"I have received not a few invitations to participate in community Monday gatherings of one kind or another. I have uniformly turned down these invitations with appreciation, but with the explanation that I have reserved Monday as family home evening time. I earnestly hope that each of you will do the same"
("To Men of the Priesthood," Ensign, Nov. 2002, 58).
Ok. Monday it is.

WHY?

For the blessings, of course. What are the blessings?

Elder Neil L. Andersen pointed out in 1999:
"We all know the struggle necessary to retain family home evening. There are thieves among us who would steal our Monday nights. But the promises of the Lord made to families who hold family home evening, that were spoken by the First Presidency 84 years ago and reiterated by our Prophets today, have never been revoked and are there for us:" He pointed out the following blessings from the last paragraph of the 1915 letter quoted above:
Love at home,

Obedience to parents will increase,

(I like that one!)

Faith developed in youth,

Power to combat evil influence and temptation,
He then said, "Who within the sound of my voice would be willing to sell these promises to those who would confiscate our Monday nights? Not one of us."
(Neil L. Andersen, "Prophets and Spiritual Mole Crickets," Ensign, Nov 1999, 16)
Amen, Brother! (I didn't really say that either, but I was thinking it.)
But there's more.... The First Presidency in 1976 also promised:
"Regular participation in family home evening will develop:
increased personal worth,

family unity,

love for our fellowmen,

and trust in our Father in heaven.
"It is our promise that great blessings will come to all who conscientiously plan and hold weekly family home evenings."
(Family Home Evening: Happiness through Faith in Jesus Christ (1976))
But wait, there's more. President Faust has also said:
"If we go forward with our family home evenings:
our homes will be enriched,

our wards and branches will grow and prosper,

our lives will be purified,

and the gates of hell will not prevail against us."
(James E. Faust, "Enriching Our Lives through Family Home Evening," Ensign, Jun 2003, 2–6)
Awesome!!
Then I added a few more quotes to make FHE enticing:
President Monson said:
"I begin with family home evening.
We cannot afford to neglect this heaven-inspired program
. It can bring spiritual growth to each member of the family, helping him or her to withstand the temptations which are everywhere.
The lessons learned in the home are those that last the longest.
"
(Thomas S. Monson, "
Constant Truths for Changing Times
," Ensign, May 2005, 19)
Elder Costa said:
"It is our responsibility as fathers to lead our families in daily family prayer, daily study of the scriptures, and in
family home evening
. We must prioritize and preserve these opportunities to build and strengthen … our families. President Hinckley said: "Try not to let anything interfere.
Consider it sacred
."
(Claudio R. M. Costa, "
Priesthood Responsibilities
," Ensign, May 2009, 56–58)
Then I testified of how I knew Family Home Evening is an inspired program and should be practiced in every home. I expressed gratitude for my awesome husband who takes Family Home Evening seriously. I should've doted on my husband more than I did, but he knows I think he's awesome.
So yeah, I think Family Home Evening is kind of important. Family fun rocks and helps build our armor to battle Satan because Satan is a jerk.