Side note: If a cow stops producing milk, do they have an udder fail?

Ok, back on topic. Last week my goal was going to be clearing my kitchen counters. Well, hmm, I did not accomplish the task. I made progress, but they get messed up so quickly!!! So I tried to determine the problems so I could come up with solutions:

Problem #1: Dirty dishes on the counter. Solution:

Clean them.

This can be a problem for me. Our day is pretty fast-paced, so it's hard for me to get a moment to wash the dishes in between meals and I'm not Type A enough to really even care. For now, the solution is to TRY to clean them in between meals and hopefully have a dirty dish-free counter by bedtime.

Problem #2: No place for food items, such as bags of pretzels or chips, or for boxes of crackers, etc.

Our house is not equipped with a pantry. It's a very poorly designed kitchen. I mean, it's nice and spacious and there are plenty of cupboards, but there is not a walk-in pantry or even a large, tall cupboard or closet. (We don't even have a hall closet for jackets.) I think our 1200 square foot apartment, when we first got married, had more pantry space than this house. Because there is inconvenient storage for these types of food items, they usually end up on the counters or on the playroom floor. Bad.

Solution

:

We have a back porch off our kitchen, and ideally I would enclose it and make it a sort of mudroom, butler's pantry, food storage type room. It's a dream of mine. But since that would likely cost in the 10's of thousands of dollars, I decided to buy a temporary cabinet at Lowe's to put in another area of the kitchen. The white matches our existing cabinets and it should nicely enclose the awkward packages of food that are encroaching my counter space and causing my utter fail. Right now the cabinet is sitting unassembled on my kitchen floor. I need to work up the courage to put it together. Here's a pic from Lowe's website. I'm kind of excited about it. I hope it holds up well: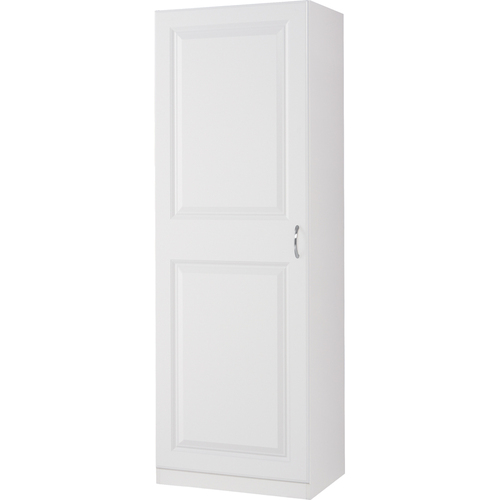 It cost $138, which I still think costs a lot of money, but much less than $10,000. It's all relative.

Problem #3: Unorganized baking center.

For Christmas my dad gave us a Kitchen Aid. I was very excited because I'm not much of a baker and I thought that this might be an inspiration to be able to do some hands-free mixing. I have a nice spot for it in my kitchen, but my ingredients are not very handy. I want my ingredients to be handy by the mixer so that I'm inspired to bake.

Solution

:

I want to install a pullout drawer in one of my cabinets where I can put my flour, sugar, etc and easily scoop it into the mixer. The ones at Lowe's are about $55-65 which I think is expensive. I've been searching online and I think I can get a comparable one for about $37. Still haven't decided yet. I might just have to squat down and pull the containers out from under the cupboard. Gaw! It just feels so primitive! We MUST have convenience and exert as LITTLE effort as possible!!! Ok, so I might be getting a little spoiled here. I think I better start a budget and practice my squats for now.

Ok that's all for now. Totally boring post, but it's been what's been going on in my mind.

This week's assignment

is supposed to be kitchen cupboards and drawers. Thankfully, I did mine not that long ago, so I'm in pretty good shape in regards to my drawers and cupboards. Getting this cabinet assembled should help with with the kitchen organization overall. I'll keep you updated.

Ugh. I'm annoyed that I just created such a boring post! Such is life. I'll leave you with pictures:
I took these last week. My counters have improved, but they still need some work. This is the counter that accumulates the dirty dishes.
This is the clean dish side. It's usually stacked with drying dishes.
This is unusually cluttered due to the holidays, but unfortunately it's still pretty bad. Aren't you excited to see the after pictures? Me too! This is where my beloved Kitchen Aid will go.