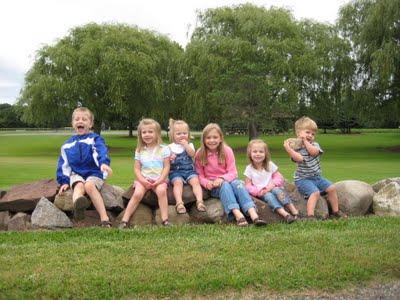 Took the kids to a park today. They had to wear jackets!! It's August 28
th
and they are wearing jackets!! It just isn't right. Anyway, I complain when it's hot. I complain when it's cold. If only it could be 80 degrees every day.
We took the kids to the hotel pool tonight (indoor). Our family was briefly hanging out in the hot tub while some
rambunctious
boys were playing in the pool. Another woman came in and saw us and asked, "Is this a birthday party?" It made me laugh because that would be a funny kid's birthday party swimming in a hotel pool at 9:30 PM. This same lady saw Rachel and thought she was really cute. Rachel was crying because she didn't have a good nap today and the lady picked her up to try and console her and admire her cuteness. I thought it was a little weird, but I allowed her. Then she said, "You are so cute I could steal you." Then she proceeded to the door. I thought that kind of crossed the line and I jumped out of the pool and grabbed Rachel out of her arms. But it ended up that she was just opening the door to let her 11 year old son inside the pool area. Then she said, "I wasn't
really
going to steal her." I was relieved and we ended up having a nice conversation about how we were both visiting Rochester to celebrate our grandmother's birthdays.
Picture uploading is super slow today. Sorry you only get one.