I was busy getting ready for our trip today. I sat the kids on the couch and told them to watch as much TV as they wanted as long as they didn't make any messes. Surely I can count 2 episodes of Spongebob, 2 episodes of Tom and Jerry, 1 episode of Doctor Who, 2 episodes of Go Diego Go, and 2 episodes of iCarly as homeschooling. Right? My plan didn't work though. There were crackers and pretzels all over the family room floor by the end of the day. But I did get some packing done. So since today was quite boring on the blog front, I dug into my stash for some content for today's post.
I took this video when we were at the really cool park with the boat. I know Jason has his fans. This one is for you, folks.
Brief Synopsis
: Jason eats a cupcake. He prematurely finishes the cupcake because he doesn't like messy hands and he looks for a wipe. He refuses the dirty used paper towel I offer. He wants to "wash the hands" but quickly finds that licking does a satisfactory job. At the end he burps, but mistakes it for a fart and my husband complains in the background that I'm taking too long of a video of Jason. (Because he wanted me to take a picture of him with his girls sitting on the grass.)

Here's the picture I took when I finished the video: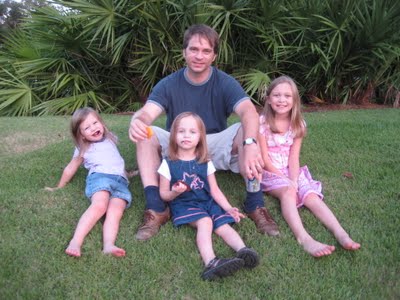 Don't you agree the video was much cuter?
Back to packing.....