Today I cleaned my Tupperware cabinet: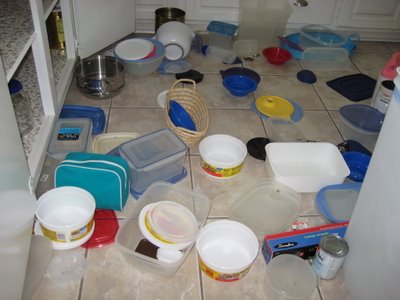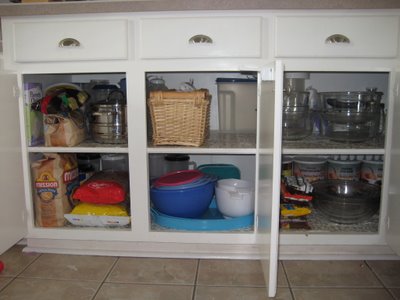 So I only actually have, like, 5 actual pieces of Tupperware. But isn't it cool that we actually still call it a Tupperware cabinet despite the fact that it's mostly Glad, Rubbermaid, empty Tollhouse cookie dough containers, Pyrex, and hospital insulated 1000 mL water mugs (I have six of them).
Then my husband's mother took us out to dinner to my favorite restaurant. I ate a 7 oz. filet mignon, sweet potato, and caesar salad. As the hostess took us to our table, my husband observed the couple's faces at a neighboring table. He could tell they didn't look too happy to have six young children seated next to them. But as the couple was leaving they made a very nice comment to us about how well behaved our children were. They told us they were better behaved than their own grandchildren. We thanked them and patted ourselves on our backs. We've had people comment before on how well behaved our children are. But it totally makes me question what they are expecting when they see six children sit down at a restaurant table. Do they expect them to be running around and screaming? Whining? Blowing spit wads through straws at the ceiling? Dancing on the table? Is it that surprising that all they do is sit in their chairs, sip their lemonade, and color with crayons on their kid's menu? I'll admit it surprises me after seeing how they act at home. I did take note they did not comment on my kids being cute.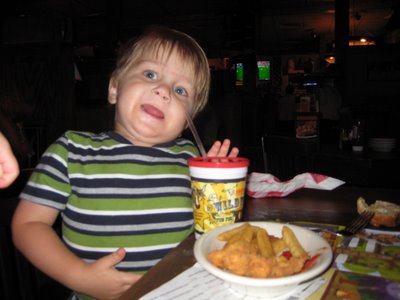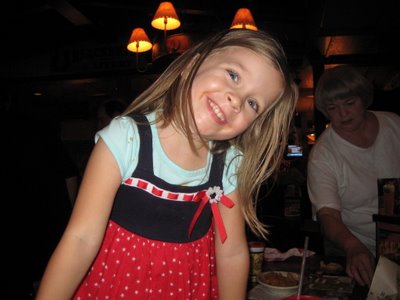 I was so hungry before we left, I just didn't care that Wendy was wearing her turquoise
I heart Sweet Treats
shirt under her 4th of July dress.
We of course ate dessert - The Chocolate Stampede: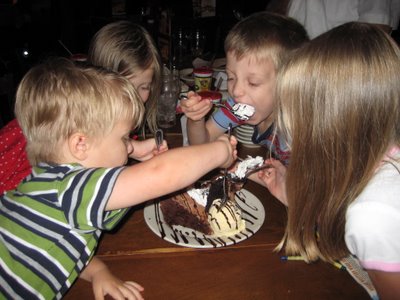 It was stampeded in a matter of minutes: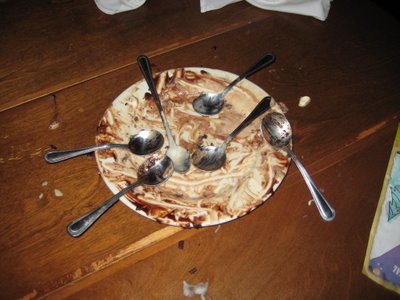 Then we went to the airport to pick up my husband's dad, the Senior Citizen Manscout: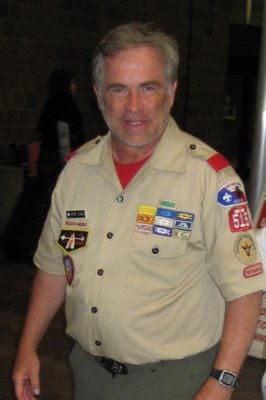 Yeah, it's a long story...