First order of business: Proof that I went to Sunday School.
A friend of mine took a picture of my husband and I in today in Sunday School and I had this surprise picture in my email when I got home.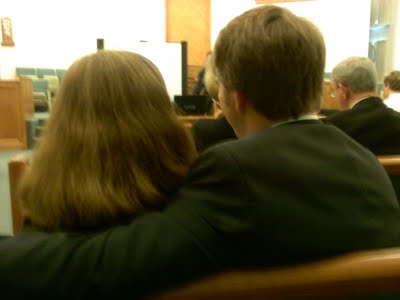 It's seems almost miraculous to be sitting in a pew with my husband close enough to put his arm around me. We usually spend Sacrament meeting sitting on opposite ends of the pew wrestling children. Which leads me to tell a short story about today's wrestling match:
It was during the second speaker that I found Jason coloring with a pink colored pencil on the pages of the hymn book. Not inside the hymn book, but on the edges of the closed book. I VERY kindly said, "No. No. We don't color on hymn books." He puckered his bottom lip and silently wimpered. I guess I hurt his feelings. I held out my arms to him with a smile inviting him to sit on my lap. My children usually never pass up a lap invitation because there is usually competition for church lap sitting. I was trying to set a good example and keep my eyes on the speaker and I heard and felt a huge slap on my arm. Although my child just hit me, I didn't want to make a big deal of it, so I used the ignore method and watched Jason out of my periphereal vision crumple and throw papers. However, when he got to the point of throwing hymn books I knew I needed to put a stop to it. At this point Rachel was sitting on my lap and my husband had Wendy on his lap and he was listening intently to the speaker give a good talk. I tried to get his attention before the commotion escalated. Somehow the communication failed. He saw me, but didn't understand the severity of the discipline needed. I knew Rachel would freak out if I left her, so I picked Jason up in one arm and Rachel in the other and walked to the exit carrying the 55 pound load and pushed the door open with my foot. I'm sure it looked very graceful. I kindly disciplined him and we went back in for the third speaker. So yes, it's nice to sit directly next to my husband every now and then in church and I have plans to purchase a few new hymn books for our ward after our children are grown.
Then we came home and Jason taught Rachel how to make scrambled eggs: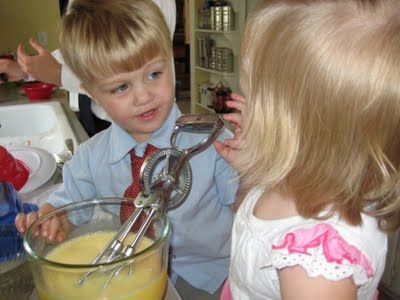 "First you crack eggs and add a little milk. You know, that stuff that Mommy puts in your sippy cup. Mommy usually cracks most the eggs, but she let me crack one today in a separate bowl. I did good job."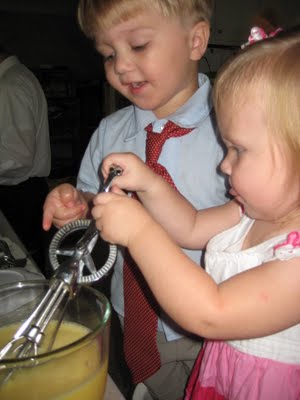 "Then you turn the handle and those things go round. And don't forget to stick your tongue out when you concentrate on this step."