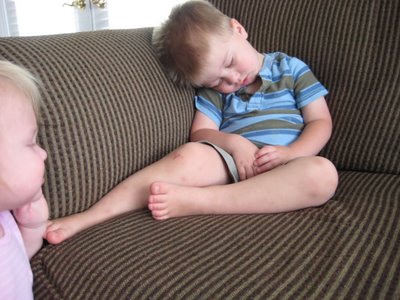 ... there is something about this corner of the couch that makes one sleepy.
This week I have been working on story writing with Emily. Story writing has never been one of my strong points. I can write a thank you note, a business letter, a journal entry, a blog post, but fictional writing does not come easy to me. As a result I've kind of neglected that portion of Emily's second grade homeschool curriculum. Since it's mid-April I decided to get busy with it. This is the story that she wrote today:
Pie Fight
by Emily


Once upon a time an old lady went to a new pie shop. A clown was there. Uh-oh! The clown threw a pie at her but she ducked. It hit a young girl insted. She had a pie. Uh-oh! She threw a pie at the clown. The clown didn't duck. The pie hit the clown. They keped throwing pies. They made more pies. When they were at the last pie they said "maybe we should eat these pies." So they ate the pies.


The End
We are going to expand upon it tomorrow. I think it has potential to be a really good story.