I took inventory of my children's jackets today. It's spring, the weather is warm, so I decided to pack up the winter coats. I keep them in bins in my garage and every year when it begins to get cold I forget what jackets I have for the kids to wear. So this year I did myself a favor and took a picture of every kid's jacket and added text to the photo to tell me the size so that I could have an indoor digital inventory of what is in those bins. That way next year I can help myself to remember what it is I'm looking for and avoid bringing the bins inside the house. Tomorrow I will do the boy's jackets...., maybe. The bins will actually probably sit here next to my computer for another 3 weeks until I feel like doing it.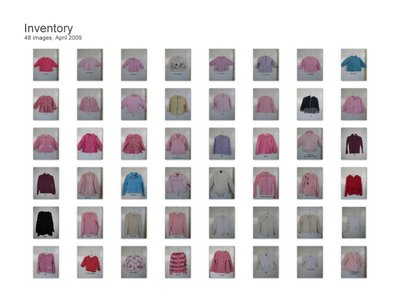 Ok. I know this might seem like an absurd amount of jackets, but keep in mind that it is sizes 6-9 months to size 7/8. There is at least 1 light weight jacket, 1 heavy jacket, and 1 church sweater for each size.
I have children's clothes coming out of my ears!!! I also cleared the girl's drawers of their long sleeved shirts and pants this evening and need to find a place to put them. You might think it would make sense to just leave them in there, however, if I don't put them away, Sarah will insist on wearing long sleeved shirts and "long sleeved pants" in 90 degree weather this summer. I'm doing it for her health.