This morning after getting ready for church, the kids anxiously came downstairs and found their barren Easter baskets on the kitchen table. I could see some disappointment in their expressions until Emily read this letter he left aloud: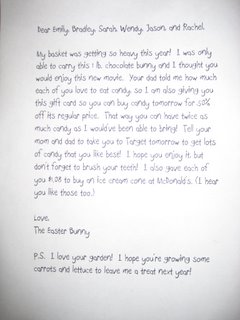 It says:
Dear Emily, Bradley, Sarah, Wendy, Jason, and Rachel,
My basket was getting so heavy this year! I was only able to carry this 1 lb. chocolate bunny and I thought you would enjoy this new movie. Your dad told me how much each of you love
to
eat candy, so I am also giving you this gift card so you can buy candy tomorrow for 50% off its regular price. That way you can have twice as much candy as I would've been able to bring! Tell your mom and dad to take you to Target tomorrow to get lots of candy that you like best! I hope you enjoy it, but don't forget
to
brush your teeth! I also gave each of you $1.08 to buy and ice cream cone at
McDonald's
. (I hear you like those too.)
Love,
The Easter Bunny
P.S. I love your garden! I hope you're growing some carrots and lettuce to leave me a treat next year
Apparently the Easter Bunny feels like holiday candy is way overpriced just like I do. Since Emily grasps the concept of money, she was thilled with the gift card and was willing to patiently wait for twice the amount of candy. Wendy, on the other hand, I think felt a bit slighted (This is the girl who's first sentence at the age of 20 months was "
I want chocolate
."):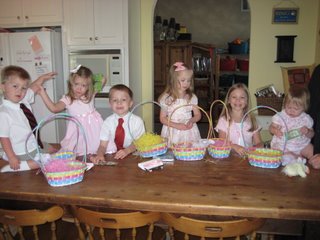 You can see Wendy is very possesive of the 1 lb. chocolate bunny group gift.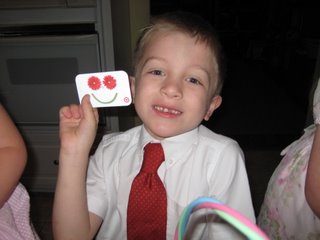 The Target gift card.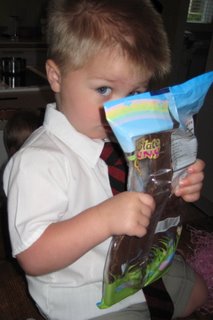 Jason did get his hands on it when she wasn't looking.

We attempted a group kid photo. I didn't get one really good one, so here is a series: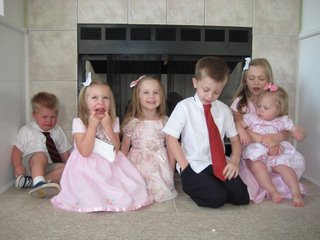 Jason's not happy and Wendy thinks this is a funny face photo.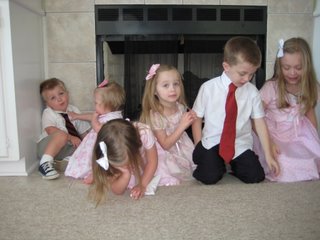 Wendy got bored and is picking the carpet.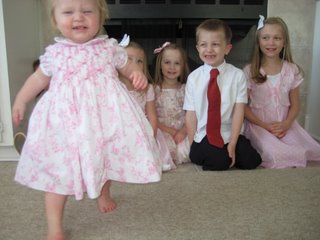 Not funny, Rachel.
We're getting there.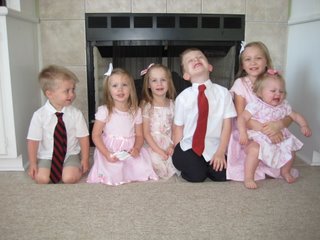 Jason decides to cooperate.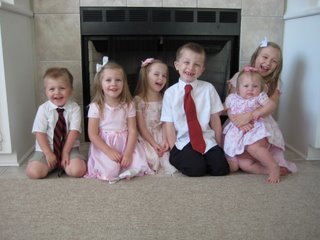 Probably the best picture we got.
Oh yes, and my Sunday School class went well. After a very short lesson, we had triple the fun with plastic spoons and cotton balls. We played pass the bunny tail (cotton ball) around the circle with a spoon. That was a good motor skill development for the 4 and 5 year olds. Then we walked across the room with the cotton ball on the spoon. I related it to the lesson by telling them they had to concentrate on what they were doing so they didn't drop it, which was like walking on the straight and narrow path back to our Heavenly Father. If they dropped the cotton ball, they had to "repent" and pick it up and keep walking. Some of the children had to repent a lot. Then we had a contest of how far they could slingshot a cottonball across the room. I won. Then we quadrupled the fun by gluing the cottonballs onto a picture of a lamb which represented Jesus. At lunch I asked Sarah if she approved of my games and she gave me a big happy nod. I'm so glad to know that I'm a cool mom.
Happy Easter!