Ok, so the other day I got a random comment on my sexy laundry post. I always get excited when new people comment and I always check out their blog as well. The current post she had for that day was this:
The first 3 people that comment on this blog post, will get something awesome handmade by me, within 12 months. Might I add that this generous time limit is awesome? If you want to join the pay it forward mania, tell me and then post something on your own blog to pay it forward.
She only had 1 comment so far and I didn't know if I should comment to get something free and handmade by this what seemed-to-be-a-cool-person. I timidly went for it and she seemed happy to make something for a stranger. Yay! I was so excited. So now I am paying it forward. The first 3 people who comment on this post will get something handmade by
me
within the next 12 months. I'm not promising great artisitc ability, but I will try. If you live where I have to mail it, it will likely be something small and light, but still awesome. I'm just cheap like that. So comment people! I want something else to add to my to-do list and I know you do to!
This is my monkey boy:
He was hungry for a banana. He used his concentration face while getting it opened. He refused any help. -- "MY do it!"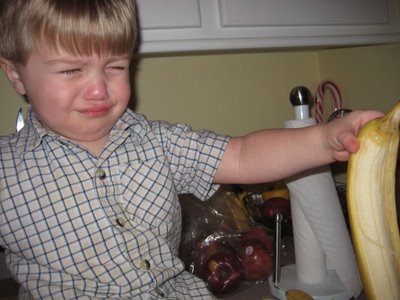 He used his sad face to express that he was upset that he peeled too much.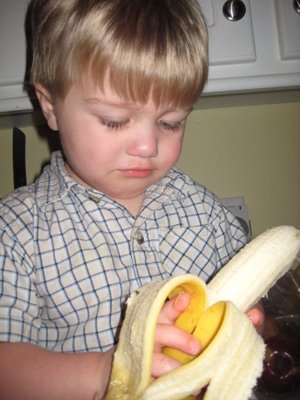 He used his pouty face during several failed attempts to replace the missing peel.
The stop-taking-my-picture-and-let-me-eat-my-banana-in-peace face.
Oo oo. Ah ah.
Now don't forget to comment.