I can't let a day go by without expressing
something
.
I'm not sure what Mattel was thinking when they came up with this product
Barbie Totally Stylin' Tatoos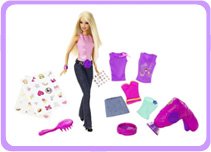 Every time the commercial comes on TV my little girls say, "Mommy! I want that for my birthday!"
I say, "NO!"
Call me old-fashioned, but I'm just not keen on the idea of putting the idea into a 3+ year old's head that she should be sporting tatoos. I think I'd rather have my kid run with a stick.
What happened to the days of Pink 'n Pretty and Golden Dream Barbie? Oooo! and Barbie and the Rockers! I LOVED the neon spandex, leather mini skirts, big hair, and Ken's mullet. Everyday after school my best friend and I would walk home and play Barbies at my house. Here is a flash from my past. I LOVED this cassette. I don't know how many times I played this tape in my bubblegum pink cassette player. I don't recall any of the Rockers having tatoos.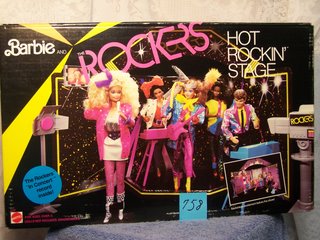 What was your favorite Barbie?