The Bachelor is over. I'm bored. Melissa is heartbroken in Dallas, Jason and Molly are probably making out in a tent somewhere in Seattle, and I sit hear looking at my popcorn and shredded cheese infested kitchen floor on a Monday night.
But wait. Here is a little love story that I have to tell. Have I told you that my husband and I met online? I think most people who know me, know that little
tid
bit about my personal life, but here's a brief synopsis of how it happened.
November 15-

ish

, 1999 I joined www.ldssinglesonline.com/ for an $8/month subscription. (Yes, I was desperate. The California boys weren't my type.)


November 18 - David joined.


November 23 - I got a message from some guy named "David."


I wrote him back and told him to post a picture because his profile didn't have one yet.

He posted a picture, I thought he was cute and we kept emailing.


November 24 - we exchanged phone numbers. We talked on the phone on the 26

th

.


November 30 - he bought a plane ticket to come see me. (We split the cost. $100 each.)


December 4 - he arrived in L.A. for his stay through the 7th. He stayed at my friend's house. We liked each other. Actually, we like liked each other. We attended a baptism. We went to church. We ate lunch and went shopping in Santa Monica. We took a walk on the beach in the evening (it was

sooo

cold!) We walked around the L.A. temple. We ate fajitas and played Phase 10 with my parents. We reluctantly said good bye at the airport. (I might add here that my parents weren't too thrilled with the whole me meeting up with someone I met online thing. But I think they warmed up to him by the end of the trip.)

I went to Hawaii for a month to help my sister-in-law while my brother was overseas in the military.


David and I got to know each other more through email and a little bit of phone. We set a tentative wedding date for August.


January 27 - David and I drove in my 1991 Honda Civic across the country from L.A. to east coast, stopping in San Antonio to meet his family. We drove 24 hours straight to San Antonio so we wouldn't have to stay in a hotel and 24 hours straight from San Antonio to final destination. I got pulled over once during the trip, but didn't get a ticket. (Probably because I was cute.)

February 2-

ish

- we picked out an engagement ring. There was a 50% off sale at the jewelry store. I put it on my credit card because David was broke. (

Hmm

. Red flag? Nah! I love you honey, even when you're broke.)

February 11 - we got engaged in the nasty and dirty kitchen of his and his

roommates

bachelor pad on the day they were moving to a new bachelor pad. (I know. So romantic.)


April 21, 2000 - We got married.


The rest is history.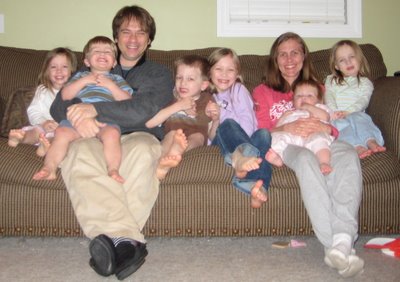 That is our proof that online dating can be successful. We testified to ldssingles.com and wrote this. It's still posted on their website in their long, long list of success stories:
March 02, 2000

We would like to bear our testimony that LDSSO is the true Internet dating service. We LOVE this service! We LOVE LDSSingle.com! We LOVE it! So, Melinda and i are engaged to be married on April 21. Cool, huh? Yeah, it is. Let me see, i sent her my first message on November 23 and flew out to CA, (that's 2600 miles) on December 4. We fell crazy in love that weekend. Oh, yeah, we did. Then, she moved out here on January, um, what was it, 26? Yeah. Now she's a mule-driving tour guide, and we're looking forward to getting married and stuff, and all is well. Ok, good luck, all. Rock on.

David and Melinda
Ok
. We are slightly embarrassed by that blurb, but I had to post it. It's a fun part of our history. I would
definitely
be more embarrassed watching myself kissing a guy on national television. I get embarrassed even when it isn't me.