Last night I was a little sad because I found out someone de-friended me on Facebook. I'm over it now. I wasn't that good of friends with him anyway. I was just using him to try to find his sister who I was better friends with. But seriously, why would you de-friend someone?
In spirit of the Sabbath I'd thought I'd share this video. I subscribe to
Mormon Messages
, a YouTube channel that posts videos weekly about the Church of Jesus Christ of Latter-day Saints
(It's an official channel of the Church.)
I got an email the other day informing me of a video titled Gary J. Coleman - Are We Christians? I got excited. I know there are some famous Mormons such as Ricky Shroeder, Glen Beck, Gladys Knight, David Archuleta. But Gary Coleman? I watched the video to find out that the Gary Coleman in the video was older, taller, and whiter than the Gary Coleman that I was thinking of, and he didn't say, "What choo talkin' about, Willis?"
It's a good video nonetheless.
It's about how Elder Coleman gained a testimony of the restored truths of the Gospel of Jesus Christ in young adulthood.
Yes, Mormons are Christians.
Mormons also know how to make good dinners. This was our dinner tonight: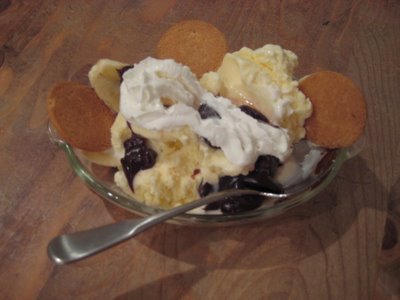 Banana Splits
I gained some popularity among the kiddos tonight with this dinner suggestion. I strive for balance -- grain, milk, fruit, and chocolate. (We had eggs and hashbrowns for lunch.)