Today I was digitally thumbing through my July photos with all my children gathered around. When I got to this one...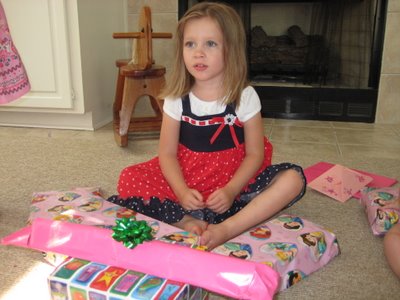 ...Sarah asked, "Mommy, is that Wendy or me?"
So to all of you who have a difficult time telling Sarah and Wendy apart because of their similar stature and hair color, don't worry because even they can't tell themselves apart.
It's easy for us to differentiate them at home. All you have to do is listen to their voices. Sarah has the deep, raspy voice that I always wanted and Wendy has the high pitched munchkin voice that I still have.
Other news on the home front:
Wendy got Crayola Washable Markers for her birthday. I was stoked that they were washable because Crayola has "washability you can trust" so I let Jason in on the fun.
Well....Crayola should say, "Washablity you can trust if you read the fine print." The fine print says, "Keep away from wallpaper, painted walls, finished and unfinished wood, vinyl, carpeting and other materials that cannot be laundered." **SIGH** As if you have time to read fine print when you have kids. The marker did NOT come off the toilet seat. Apparently it only washes off from skin and most washable children's clothing.
So today I switched the downstairs toilet seat with the upstairs one to keep our guest bathroom presentable. I think life might be easier if we just dwelled in a tent. Or is it dwelt in a tent?