Today we pulled out the Soak and Slide. Amber brought one along on her trip and since it was the last afternoon that they will be here, we decided it was time for the fun despite the thunder.
Rachel enjoyed drinking the water. Notice she is wearing the same bathing suit Sarah wore to the beach the other day. Also notice that she is the "fat one" still sporting her thigh butts.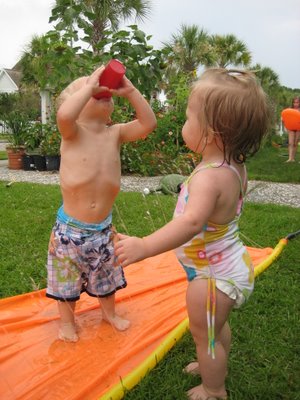 The skinny one borrowed the cup. Man! I've yet to see Rachel's ribcage.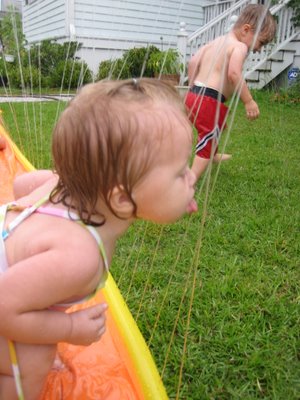 So the fat one drank direct.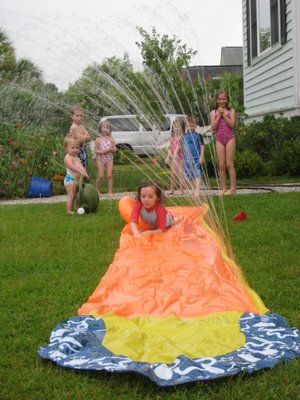 A little bit of soaking and sliding.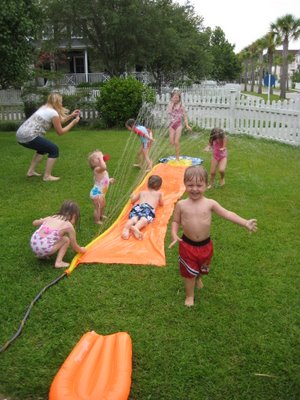 I wouldn't normally post a picture of a pregnant woman squatting, but in all fairness I got my
ugly feet
posted a couple of days ago and it was a good group shot of all the action.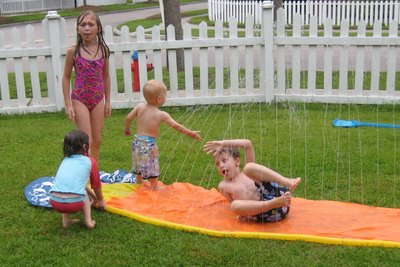 So yes, we will miss our visitors. I pretty much had my own personal chef. Today's menu included
strawberries
and cream crepes for breakfast, grilled tuna sandwiches for lunch, and
zucchini
and chicken enchiladas and Mexican rice for dinner. All in exchange for me washing the dishes, of course. Very delicious!