The toilet is fixed!
I went to Lowes tonight to get me a 3 ft. snake. As I predicted, we did not need the 15 ft. one that attaches to an electrice drill. It was just toilet paper. I'm happy now. I could start a plumbing business unclogging neighbor's toilets for $80 a pop. Athough that would probably be a pretty crappy job.
Of course along the way I stopped to Target to return my new dresses that looked like nightgowns. Then I stopped to Kohl's to return the load of work clothes that I bought my husband a month ago for his new temp job that never turned permanent, and then I spent the rest of my birthday money on clearance clothes for me.
It was a good night. Fixed toilet, new clothes and John Tesh and I had a little bonding time in the car ride. Ug, but now my kitchen is still a mess. I can only do so much in one day. That will have to wait until tomorrow.
The other night I went to check on the children and I found this: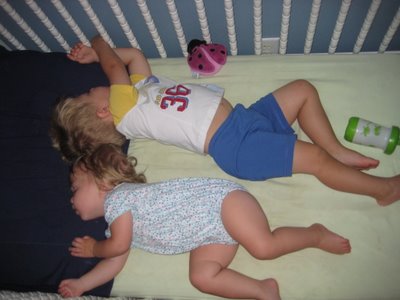 Jason had a nightmare the previous night. I guess he thought he would crawl in bed with his little sister for some added security. It kind of looks like synchronized sleeping.