Today Wendy wanted to wear the dress that Sarah was wearing. Now keep in mind that these girls are 17 months apart and Sarah is about 1/2 inch taller than Wendy. Sarah told Wendy that when she grew up, she could wear the dress. But Wendy was so confused and looked offended. Then Wendy replied, "But I DID grow up!" How could Sarah forget that Wendy turned 4 yesterday?
My husband was taking a class tonight, so after we folded laundry and were waiting for him to come home, I let the kids draw pictures with the markers that Wendy got for her birthday. Emily drew this: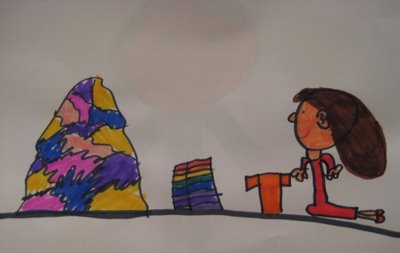 This is a picture of Emily folding laundry. She's got the
perspective
of the laundry pile exactly correct. However, we do not stack our folded laundry in rainbow order.
Last night when we were getting the cake ready for Wendy's birthday Emily was on a desperate search for paper plates. I said to her, "Emily, if we didn't have paper plates last night, and I haven't been to the store, how would we have paper plates tonight?" She agreed with the logic, but was still desperate to find some. At first I thought she wanted to make it a little more festive, but then I realized that she was afraid she was going to have to wash dishes again after cake. I assured her that I would wash the dishes and that she only washed them the night before because it was MY birthday. She was extremely relieved and
immediately
settled for the
plastic
plates.