Today my parents and I took the kids to JCPenney to get a picture of Rachel. When Emily was little I took her every month for her first year to the Walmart portrait studio to have her picture taken. The package was $3.95 at the time. The Walmart portrait studio is now gone and we have to trek about 30-40 minutes to another part of town to go to the more expensive department store studio. Because of the hassle, poor Rachel hasn't had any professional pictures taken. I keep telling myself that when I get the money I am going to hire a good photographer to take an hour or so with our family and shoot a whole bunch of pictures. That way I get to keep the digital files and select which photos I like at my leisure because seriously I think that is the most stressful part. However, who knows when we will ever have money again so my mom insisted that we get her picture taken while Rachel still looks like a baby. I'm glad we went and I'm glad that my mom paid. Bradley is also glad because I can now fill the empty frame that's been hanging on our wall for the past 16+ months that says, "Coming Soon."
While waiting our turn, I saw this in the frame display: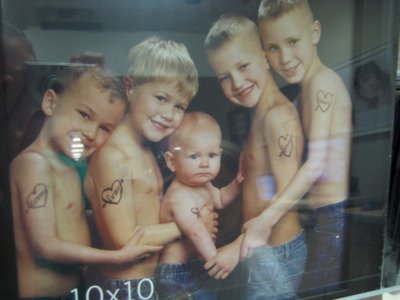 Nothing says "I love you" more than your 5 shirtless boys with fake tatoos that say, "Granny." I'll bet that put a tear in Granny's eye on Mother's day.
If you go to JCPnney's site you can see that they have definitely narrowed their target market. I opted not to get the Harley-Davidson Road Rebel portraits with background, leather vest, and kid-sized motorcycle. I just didn't think that it went that well with Rachel's polka dot dress.