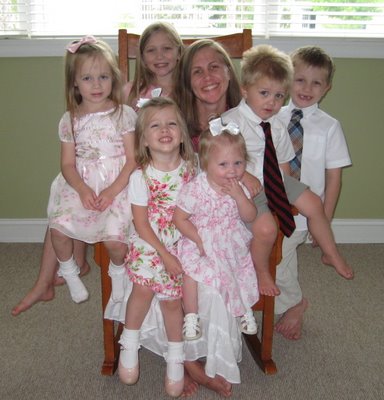 When I was little, it was always my job to stand in front of my mother, or at least slightly in front of her so that she would look thinner in photos. It looks like I can gain as much weight as I please because my children completely bury me! Bring on the doughnuts!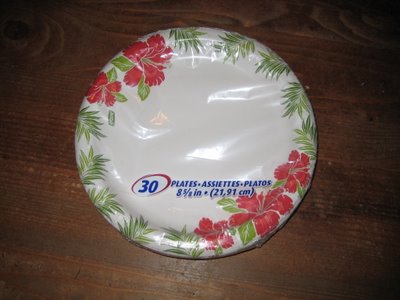 My Mother's Day present to myself. I'm a big fan of paper plates, but for the past few months I've classified them as a frivolous expense to help trim the budget. These were clearanced at Walmart last night for $1.00. I couldn't resist. They are even high quality paper plates! These should get us through 4 meals.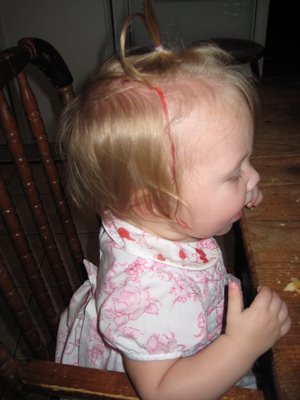 Rachel was crying in the family room so I put her in her high chair with some crackers. She sat there for 10 minutes before I noticed the blood on her collar from the blood dripping down her face. Apparently she was crying about the gash in her scalp which would explain why Jason kept saying, "Head. Head." I think he was the guilty suspect. Nothing like celebrating Mother's Day doing a little Spray 'N Washing. Rachel is ok. It was just a lot of blood from a little hole.
And FINALLY the priesthood wisened up this year and gave all the mothers at church CHOCOLATE! Usually we get a potted flower that I'll sit on my porch railing with good intentions of planting, but forget about it and it wilts to its death. The chocolate was delicious and I quickly planted it in my belly.
Today was a good day. There was a thunderstorm. I got a nap. I talked to my grandmother and my mother. My family made me biscuits and leftovers for dinner. We had strawberry shortcake for dessert. The only thing missing was the children singing Mother's Day songs in Sacrament meeting at church. What's up with that? I missed it.
As mundane as the daily tasks of motherhood can be, I do like being a mother.
"Recognize that the joy of motherhood comes in moments. There will be hard times and frustrating times. But amid the challenges, there are shining moments of joy and satisfaction."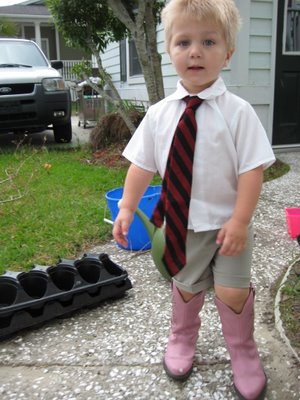 Here's a little joy and satisfaction.