Today was generally a BAD day, but this cheered me up: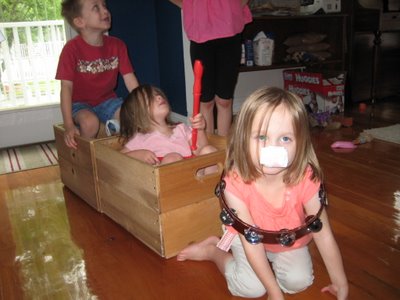 In case you can't tell, it's a picture of Rudolph the Red-Nosed Reindeer (Sarah), Santa (Wendy) and her elf (Bradley).
The kids are preparing a play for when my parents come tomorrow. The last time my parents were here it was Christmas, so I guess my kids think they should put on a Christmas play? I don't know. Emily is the director and costume designer. She made Rudoph's nose. It's a folded paper towel colored with red marker taped to Sarah's nose. And I guess she also wrote the feminist version rendering Santa as a female who plays the recorder as she flys around on Christmas Eve night.
As the oldest child, Emily has quite the leadership skills. She gave our Family Home Evening lesson tonight. I had no idea she had it all prepared. She had visuals and everything. It was on emergency preparedness. She drew pictures of things we should include in an emergency kit. She had pictures of:
food (granola bar, orange, bread)
blanckets + pilo
flashlights + radeo
clothes + shoes (shirt, belt, pants, shoes with bows on them) She also mentioned pajamas and Sarah thought we should have slippers.
scripshers + jernel (because we want to record those emergency moments)
Then she read an article from the Friend titled, "Emergency Day Drill" (March 2009, p 28)
Then she had a plastic bag of items and had each family member pull out an item and it was an example of what should be in an emergency kit and she talked about it. There was a flashlight, first-aid kit, batteries, play food, a pretend Book of Mormon, stack of fake money that she made, an ambulance Matchbox car (it reprensented what would happen if someone got hurt in an emergency.)
Just when we thought it was all over, she handed a plastic bag to each family member and told them to get a few items that they thought should belong in an emergency kit and bring it back to the family room. When we all brought it back, we showed each other what we gathered and placed the items in two different piles according to whether they were appropriate for emergency preparedness. Everyone did a good job. The only item that was somewhat questionable was a bobbin with pink thread that Sarah brought. I don't think it's likely that my sewing machine will need to be included in the 72 hour kit. Maybe we will just include a travel sewing kit.
The lesson was awesome. It was nice that it even included an activity. All I had to think about was getting the tub of cookie dough out of the fridge. Yay kids!
The end of the day turned out really well. I'm going to bed now and hope for a better day tomorrow. I'll fill you in on the details later.