Is it totally lame to blog about Christmas on January 5th? I have to do it. It's one of my New Year's resolution. Here it is: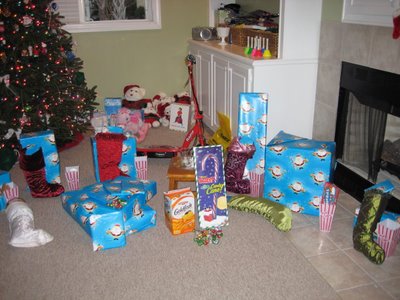 Santa must have thought is was lame to eat popcorn out of cookie dough containers. He gave us some real deal popcorn containers and some Goldfish for Bradley because Bradley doesn't like popcorn. And check out that giant candy cane! We hung it on our tree.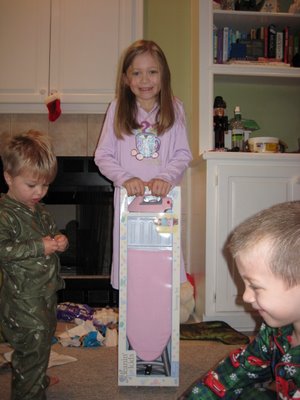 An ironing board for Emily.
The box doesn't tell the height of the toy. It goes up to Emily's knees, but she still liked it and now Mommy and Daddy don't have to watch her drool over it every week at Walmart.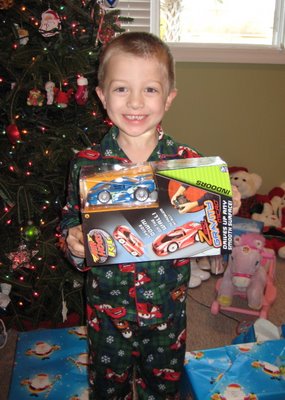 Bradley got his well-wished for Zero Gravity Micro.
I was a little leary of him asking Santa for it, afraid that it might mark up my walls and ceiling. However, the thing is pretty cool. Good job, Santa! Bradley told me later that he wanted a red one, but I guess he didn't specify color to Santa. A lesson learned by a six year old - Santa needs details!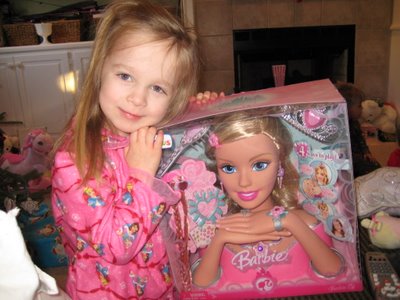 A Barbie head for Sarah.
When I see the thing out of the corner of my eye, I think it's a seventh kid. Her head is huge! (Barbie's head is huge, not Sarah's.)


Do you think she was excited?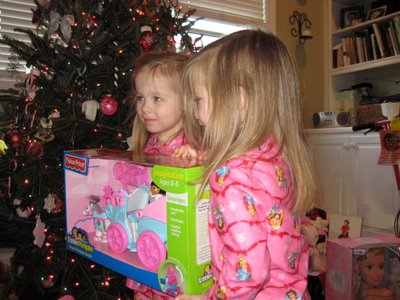 A Royal Princes coach for Wendy.
I guess Santa couldn't find the Barbie Dream House that the other kids requested from Santa on behalf of Wendy on our December 23rd trip to see him. Santa must know you can never go wrong with Little People, especially princess Little People.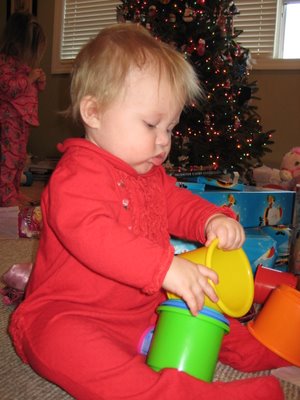 Stacking cups for Rachel.
It's a good thing Mommy and Daddy gave her a walking toy to help walk off that cheek chub.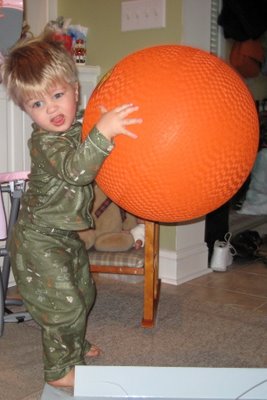 A big bouncy ball for Jason.
Santa must have seen Jason play with Daddy's big exercise ball and thought he needed one of his own in toddler size. Jason liked his present, but I think he was more excited about the unregulated chocolate eating on Christmas morning. His goal was to eat as much chocolate as possible during the chaos before Mommy and Daddy set any limits.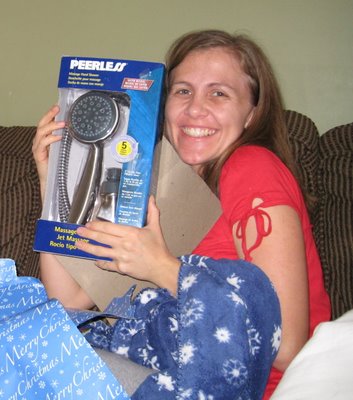 One of the best gifts ever!

My parents gave me a removable shower head per my request. I can't believe I've been living without one of these things for the past 7 years! Bathtime is so much more enjoyable now. It sure beats rinsing kids with an old red plastic Pizza Hut cup.

The kids also got a bag of Marshmallows in their stocking. It was a hit with Rachel. You can see Jason in the background enjoying his chocolate.
It was a good Christmas! I was exhausted the whole day. I can't even imagine how exhausted Santa must be after a season like this!