Tonight was our ward's annual Trunk or Treat event. This year the Primary president introduced a new tradition of "The Scripture Hero Wax Museum." I wasn't so sure how it would turn out, because our ward can resist change sometimes, but it turned out well. All the primary kids ages 4 and up dressed up as scripture heroes (from all books of scripture including the Old Testament, New Testament, Book of Mormon, and church history.) The children had the freedom to choose who they wanted to be in Sunday School a couple weeks ago. The 4, 5, and 6 year
olds
marched in a parade while the older kids sang "Scripture Power." After the parade the older kids positioned themselves around the cultural hall and when you touched their scroll they would read about their character to you. Then we all went outside and collected candy from people's trunks. These are the characters that my kids chose: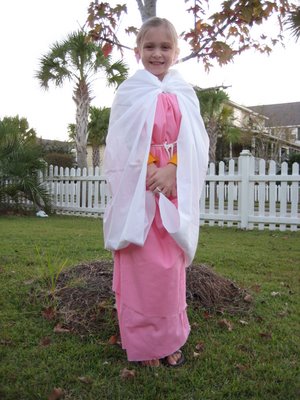 We copied the costume from the
The Living Scriptures
video that we have. I'm pretty sure The Living Scriptures have it 100% accurate. I'm also pretty sure that they wore a lot of pink in 90 B.C. ancient America. Emily was thrilled to be dressed as a queen. She was also disappointed that the feathers in her hair aren't showing in this picture.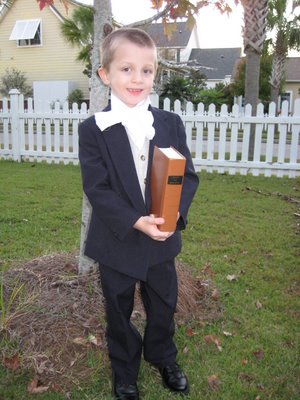 Complete with old
timey
Book of Mormon. Isn't he handsome?
I didn't even know Sarah knew who Eve was, but the primary leaders told me that she was
adamant
that she wanted to be Eve. Sarah loved her costume. You can't quite tell in this picture, but she's not actually topless. Her bodice is a pair of pantyhose with the crotch cut out and some glued on fig leaves.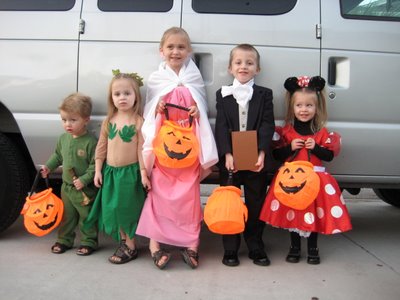 The little ones didn't have to dress up as scripture heroes so Wendy was Minnie Mouse and Jason was Mr. Green who did it in the Dining Room with the candlestick. (He even looks guilty, doesn't he?)


It was a fun evening!