There are days that I have so much to say, but by the end of the day I'm just too tired to spit it out on my blog. So this picture by Emily will have to suffice for today: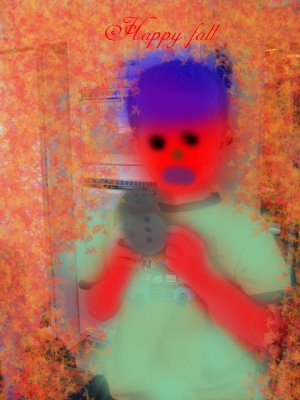 Ok, I soaked up a tiny bit of energy to tell this story. It was recently
recommended to me
to check out byu.tv and a series they run called Real Families, Real Answers. It's a series to help families learn how to become stronger. The website is
http://www.realfamiliesrealanswers.com/
. I watched one episode this evening about protecting family time on
http://www.byu.tv/
. There was a professor who talked about how today's society expects you to farm out specific educational activities to other people. For example there was a family who wanted their four year old to have a musical experience so they enrolled her in a Saturday music class. To the disappointment of the parents, the class did not fill so it was cancelled. But then the father thought, "You know, I can play the banjo." And the mother agreed she could sing a bit so they decided to give their children some musical experience at home. The professor telling the story said, "So what they did instead of having music class, was on Tuesday nights to have burritos for dinner and then afterwards they make music."
Hmmm...that's an interesting family tradition. I am assuming those are bean burritos.
(By the way - it's a good series.)