I heard Sarah singing the lyrics to I Am a Child of God the other day while she played in an adjacent room. This is what she sang:
I am a child of God
And he has sent me here.
Has given me an Earf-wee
(Earthly)
home,
With parents kind of near.
("With parents kind and dear.")
Do you think I blog too much? I'm sorry Sarah. Come sit on my lap while I type.
I love that Sarah! She's one of my favorite kids.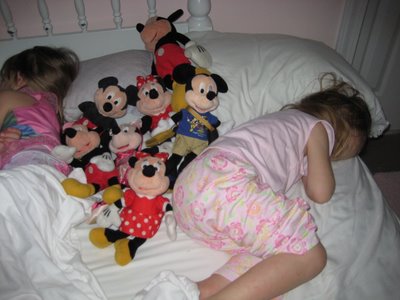 For the past three weeks I've been wondering why Sarah has been crawling into our bed at 2 AM every night. Do you think this might be a clue? I think the Mickey Mice might need to migrate to a box in the attic until Sarah relearns to sleep in her own bed.