Today was a day of recovery from the Halloween festivities. We let the kids eat as much candy as they wanted. At 2 years old, Jason hasn't learned about pacing when it comes to eating candy. He took advantage of the Halloween honeymoon and ate several fun-size packages of M&Ms, Snickers, Reese's, Hershey's, and licked several Tootsie Pops and left them somewhere to leave a sticky mess. I guess he doesn't care to find out how many licks it takes to get to the center of a Tootsie Pop. It's all about instant toddler gratification.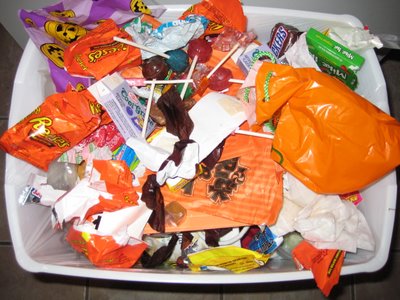 Our November 1st trash can.
Those poor Tootsie Pops! It's such a shame that they never had a chance at life.