Today I cleaned out my cupboards. I thought it would be a good thing to do the week before Thanksgiving. Knowing there is a good meal ahead in less than a week, I thought it might be fun to use the miscellaneous foods that are shortly beyond their "Use By" date and challenge our creativity to come up with some meals this week. Because we have a large family, everyone always seems to think of us first when it comes to getting rid of clothing and food. We've had 3 families in the past year drop off a load of miscelleaneous food items because they didn't want to travel with it when they moved. It's fun to try things that are on other people's menus. We also often get the leftovers from church events. Last year my husband came home with a trunk full of hot dogs, hot dog buns, mustard, ketchup, Hershey Bars, marshmallows, milk, syrup, pancake mix and Doritos after a father/son campout. I am very grateful for the free food but sometimes the items don't fit the uniformity of my cabinets and so I shove them wherever and forget about them. I don't want that to happen anymore so tonight I made:
Ramen Stir Fry
2 packages of Ramen noodles
1 can sliced carrots
1 can peas
1/2 cup soy sauce
1 t. sesame oil
1/2 cup chicken broth
1 egg
1/2 cup cashews
I boiled the Ramen noodles (but not the seasoning packets because MSG gives me a nasty headache) and drained. Then I kind of threw everything in a wok and stir fried away. It tasted pretty good. No rave reviews, but I give it 2 stars and a pat on the back for creativity and resourcefulness.
Then I made a box of chocolate chip muffins with a Use By date of SEP 07. I think Bradley will be pleased to see those at breakfast.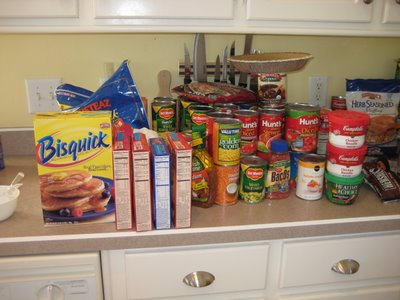 This is our pantry for the next 5 days. How about some tomato pie in a graham cracker crust?