Friday and Saturday
August 22nd and 23rd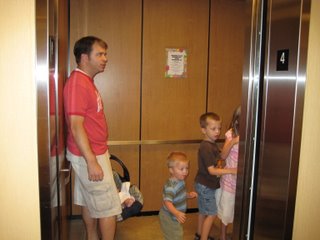 This was our last elevator ride and argument over who was going to push the button. Only on two occassions did a child get trapped alone on the "elegator" during our stay. The first one was when Jason failed to follow like a good duckling. The second was when Wendy lagged too far behind upon exiting. She didn't handle the situation quite as calmly as Jason did. You could hear her cries of terror as the elevator took her up to the second floor all by her lonesome. David was a good dad and ran up a flight of stairs to greet her when the door opened. She survived the ordeal and followed close behind after that.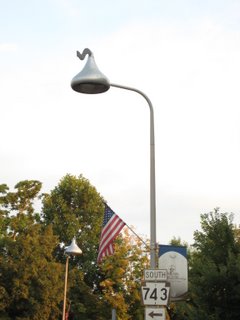 We drove to Hershey, PA where the streetlamps are shaped like Hershey Kisses.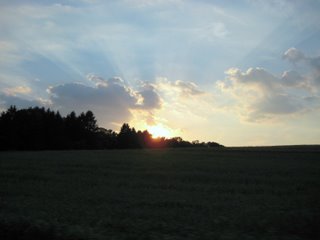 And where I was able to capture and prove a little piece of Heaven exists where chocolate is in abundance.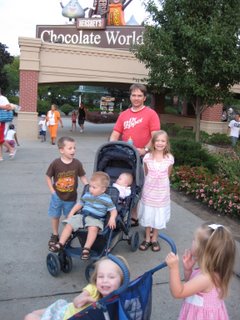 We visited Chocolate World. It was totally not what I had expected. I was expecting a little factory off the beaten path where they showed us how Hershey made its chocolate. Instead it is a ride that takes you through a simulated chocolate factory with singing dairy cows and fake factory equipment. Our kids loved it and we did the free tour twice. There was a ton of overpriced souvenirs and a whole lot of tourists hyped up on chocolate. After Chocolate World we stopped by Wendy's to get milkshakes and french fries. We stopped for the night about 30 minutes outside of Hershey. We wanted to get further today. We knew we had a long day ahead of us tomorrow.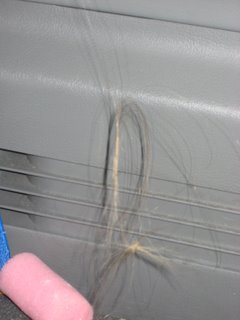 And it was long. We traveled (including stops) from 9:22am to 11:30pm. The kids got a bit restless along the way and Wendy lost some hair thanks to Jason.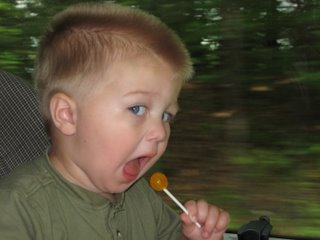 The tears and fighting were all curable with some handy Dums Dums that Nani packed for us. Thanks, Nani!
We did not bring a DVD player on the trip. We don't own one. Instead we opted to entertain the children by having them lift their arms when driving under bridges. It lasted about 30 minutes. Not quite as long as a movie but this video sure beats a video of kids watching a movie.
We finally made it home. Yeah!
My, it was a good trip!
Now back to the present. We start homeschooling tomorrow. I should probably go figure out what I'm going to teach the kids. Spongebob is off duty and I'm in charge.