Ok, so it's not entirely poop, but it is mushroom compost mixed with horse manure, top soil, and soil conditioner. Anyway, a lot of it.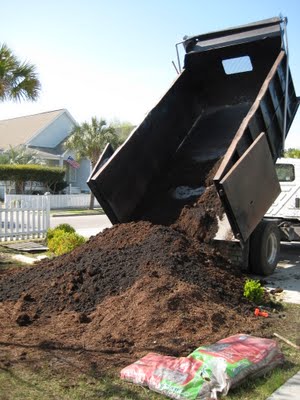 To make a long story short, we got a couple more cubic yards of top soil and one cubic yard of mushroom compost for the garden today. My husband thought we had too large of ratio of the soil conditioner in the first 7 cubic yards (4 parts soil conditioner: 3 parts compost) so the guy at the dirt shop brought us some soil to make us feel better and more confident about our garden. He delivered it at no charge and hopefully if all goes well with the gardening, I will be able to drop him off some good produce later this summer.
So that is a lot of wheelbarrows of loading and unloading. I think we might possibly have the most lush yard in the neighborhood this summer. Perhaps, we might even be awarded "Yard of the Month." I doubt it, but I can continue to hope. I'm pretty sure plastic cereal bowls, rubber boots, hoses, Easter baskets hanging from tree branches, and broken outdoor kid toys contantly strewn in the yard disqualifies you for that award. But maybe the kids can have a vegetable stand and make some money.
So that's our dirt. We are going to have a very busy Thursday and weekend. But I'm very excited. I began to harden off my tomato plants today. (Seriously, why does the gardening world have to use that term? It just sounds so inappropriate and makes me blush.) I hope they are good tomatoes! This weekend I'm going to plant my cucumber seeds. I think this year I might actually learn how to pickle.