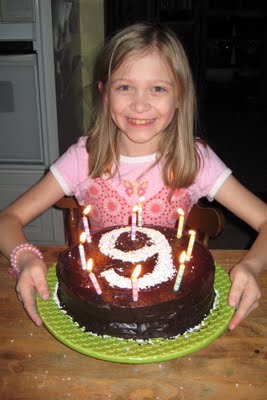 Emily received her requested cake. She made the cake herself and Mommy frosted it. Instead of chocolate sprinkles, I used pastel nonpareils because the chocolate sprinkles didn't contrast enough with the Special Dark frosting. She had a great birthday.
Our house's downstairs AC is not working. It is going to cost $600 to fix. It's almost 13 years old and we are debating whether to put in a new system since we can get a 30% tax credit on one this year. However, it is very costly. Meanwhile, I'm sweating bullets while waiting for an estimate or for the guy to come fix it. The good news is that my indoor zinnia seedlings are sprouting because it's so warm and humid in my house. We are going to have LOTS of zinnia in the garden this year. I hope it is as beautiful as I imagine.
I trained Emily how to mop my kitchen floors tonight. It was a successful training session.
I think that's all. I'm tired. I'm hot. Hot, as in sweaty hot. Not hot, as in beautiful hot. The other day when we went to the funeral I got to meet some of David's family for the first time. I expressed to my husband that I didn't like that their first impression of me was me looking like a cow. He told me I looked more like a manatee. He's so sweet.
I have a doctor's appointment tomorrow. I'm hoping that my cervix is closed tight so that I don't have to stress about having this baby in April.
I've been really bad about taking pictures lately. Shame. Shame. Shame.