Wednesday
August 20th
Today we went to the Strong Museum. The term "museum" indicates learning and I wasn't in the mood to learn today. But the full title is actually
The Strong National Museum of Play
. Ok. Let's check it out. It was AWESOME!! The kids absolutely loved it. We were only planning to spend a few hours, but ended up spending the whole day. They have a whole lot to do there, I can't begin to name it all. It's 282,000 square feet of fun. Here is a sampling: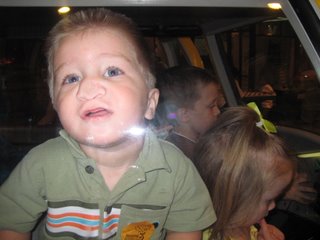 Jason pressed his face against the play Sesame Street taxi window.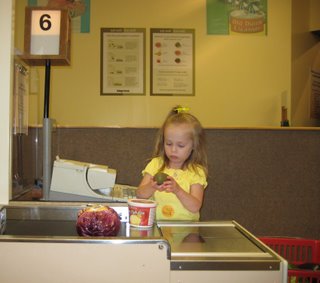 They had a pretend grocery store. It had kid sized carts and check out stands. How awesome is that? That is so dreamy for a little girl. Sarah shopped for cabbage, tapioca, kiwi, celery and watermelon.
Wendy purchased 2 pumpkins, diapers ("for Rachel"), ice cream, Brie cheese and sour cream. She has not learned the art of filling a grocery cart yet. (She's pushing the red cart behind Sarah.)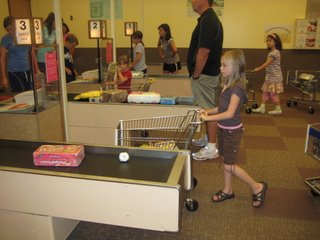 Emily patiently waiting in line.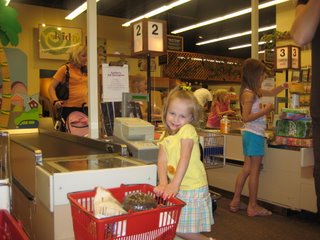 Sarah was so proud of her checker skills. The girls loved the grocery store so much, they did it twice.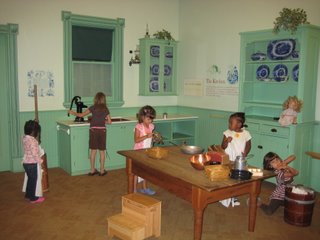 There was an old fashioned kitchen. Emily joined some other girls and made stew.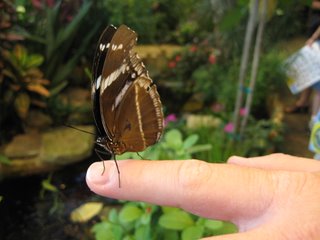 There was a butterfly atrium. You had 20 minutes to walk around and view the approximately 800 butterflies. David caught one with his finger.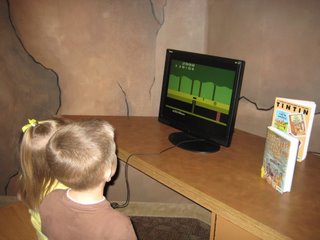 Bradley and Sarah played Pitfall.
That's just a fraction of what we did. The kids were begging to go back the next day. The day reminded me of one of the reasons why we choose to homeschool. Playing so important for development. Children these days are at risk of being overscheduled with school and other scheduled activities. Recess and PE are being reduced at some schools. Standardized testing is becoming too much of a focus. It is my job as a parent to make sure my children get enough free play so they develop and learn.
Click here
to read more about the benefits of play. We are going to do a whole lot more playing in school this year!
That evening we went to a place called Schaller's for dinner. They have excellent hot dogs, hamburgers, and frozen custard. Then we went to the hotel pool. We went in the "cold pool"...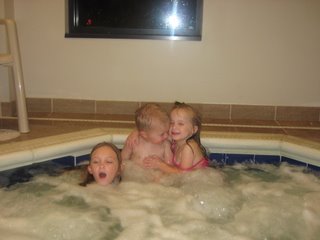 ...and the "hot pool." The kids preferred the hot tub when the jets were off. Sarah said she didn't like going in the hot pool when the water was boiling.
Does this vacation ever end?