Tuesday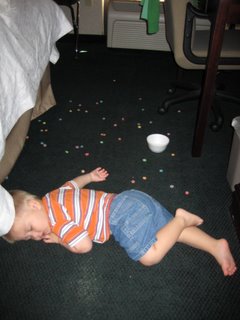 After breakfast we went back to our hotel room. While we spent some time finishing getting ready, Jason crashed on the floor and fell sound asleep amongst his bowl of fruit loops.
By the way, we stayed at the Hampton Inn. Hampton Inns rock (except for the high speed Internet.) Our hotel was newly remodeled so it didn't bother me so much that he was lying? laying? (I can never get that word right) on the floor. Hampton Inn did away with polyester bedspreads and now offer white down comforters. The mattresses were new and comfortable. The free continental breakfasts were very good too! They actually have food and hot food. At the hotel we stayed in at Richmond, the "Free Continental Breakfast" consisted of four miniature chocolate donuts in a
Sterilte
container. I'm not kidding. It was one of those plastic containers you buy for your craft items or a dorm room that has drawers, a small one about 12 inches high. I totally would've taken a picture, but I was trying to stay under the radar for exceeding our maximum capacity for the room. I was tempted to go to the front desk to ask them to break out another box of Hostess, but I didn't. We ate some granola bars instead. Howard Johnson is so stingy!
We took the kids to the indoor hotel pool in the morning. No pics. Sorry! That afternoon we went to Nani's for dinner. She was thrilled to be able to cook us a baked
rotini
. It was nice having a home cooked meal.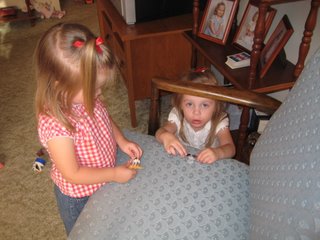 The girls played farm animals.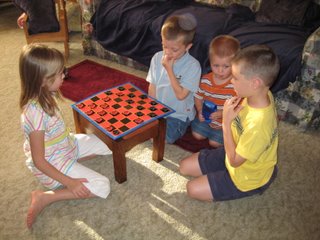 Emily and Bradley played to checkers. Bradley looks as if he is actually
strategizing
.
Rachel hung out.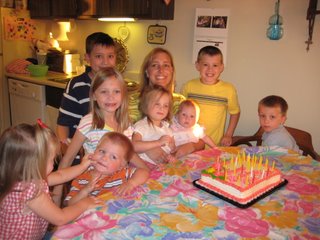 We celebrated my sister's birthday with cake and lots of candles. I won't expose how old she is. You can count the candles.
The kids also put on several skits for the adults. I have several videos, but I'll spare you the childish humor.
The girls played princess hair salon at 10:30 PM at the hotel.
A rather slow day. But nice.