December pretty much kicks my butt. Last night we got down 6 Christmas bins from the attic to start our holiday decorating. The first mistake was getting the bins down. As soon as they were all downstairs they were opened and everything strewn about the house. I wasn't angry though. How can you resist delighting in watching six little eager and curious children find joy in the newness of all the decorations and toys. We have Christmas bears, various sized trees, lights, garland, manger scenes, tins, nutcrackers, Christmas cards, doormats, and more. I didn't do much to clean it up last night, so this morning we woke up to a disaster. But I let the kids play with it and tried to make progress around them. Sarah enjoyed using the Christmas tree skirt as a shawl, Jason cracked goldfish in the nutcracker and fed them to Rachel, Bradley wore the Christmas stockings, while Emily practiced her Silent Night on the piano for our ward talent show in a couple weeks.
My kids are always begging me to do crafts with them. I usually find some lousy excuse why we don't have time to get out all the paper, glue and scissors. But today, I decided to be crafty and have my kids make our family Christmas cards. I bought 3 different sets of real cards last year on clearance, but for some reason I don't feel like using them this year. We had been crafting for about 15 minutes, when Emily says, "I want to watch a movie."
Are you kidding me?
Anyway, I let them watch Barbie and the Nutcracker and I continued to craft all by myself in the playroom. I'll see if they want to help me some more tomorrow.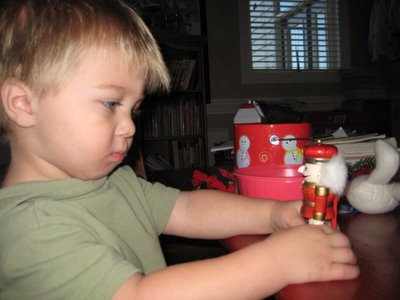 Just so you know, Jason refused any help in getting dressed this morning. Consequently he is wearing a collared shirt backwards. At about 1PM it was fixed. I don't know if he suddenly realized or if my husband fixed it.