Jason is going through a terrible terrible two's phase. Everything must be done independently. He won't let anyone get him dressed. I got out the red plaid Christmas pajamas the other night. All the kids fit in last year's except for Jason, however, my mom planned ahead last year and bought Jason the next size up for this year. He loves to match his siblings and he loves to button his own buttons. But I don't think he likes sleeping in flannel. Last night at 3:45 AM he came into my bedroom with a new pair of pajamas that he ransacked out of the clean clothes laundry bin that was neatly folded in the hallway. Grrr. He whimpered, he screamed and I couldn't do anything right. I finally forced him to let me hold him while we layed in my bed and he finally fell asleep in his diaper.
He's also going through an awful phase of climbing out of his crib at bedtime. He is way too limber and throws his left leg over the siderail and climbs out in about 10 seconds. I've been using a Super Nanny technique that I learned from watching her show where if your child resists bedtime and escapes, you should avoid eye contact and verbal communication and simply bring the child back to his/her bed or crib and leave the room. You repeat this until the child accepts defeat and stays in the crib or bed. Tonight it took me 20 minutes. Finally when I sensed surrender after the 21st time of putting him back in his crib, I could here him grunting. He was putting his pajama shorts back on after he had taken them off in protest of the 4th failed escape. It was evident that he was successful when he exclaimed, "On!....pants..... I did it! Sarah! On...pants," and continued to mumble other toddler nonsense. I think we both got a workout tonight that tired us out. Jason isn't ranking so high on my favorite kid list right now. His ranking is about as high as this elf is on my favorite Christmas decoration list: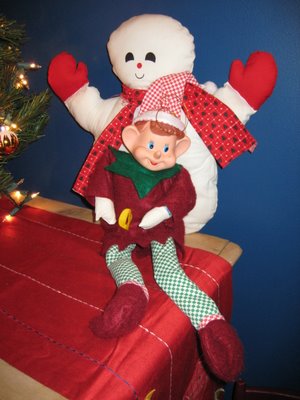 "Cute? Maybe? Ok, a little cute, but not that cute."
I usually keep the elf in the Christmas box and don't unveil him because I can't decide if he is cute or not. But this year, one of the kids brought him out and he somehow stayed. I've had him since 2001. I was eating at a Cracker Barrel in Massachusetts with Emily, my parents and sister when this old man brought him over to our table to give to Emily when she was 9 months old. It was after Christmas and I think he bought it at 50% off in the restaurant gift shop. It was a kind gesture. I know. I just thought it was a strange thing to pick out. But I'm not sure which is worse the strange elf or the bald snowman who looks like he got caught and is getting arrested for kidnapping a little girl and taking her on a train to the North Pole. I made the snowman the first Christmas my husband and I were married. I never got around to finishing the hat which is probably why he looks so lifeless.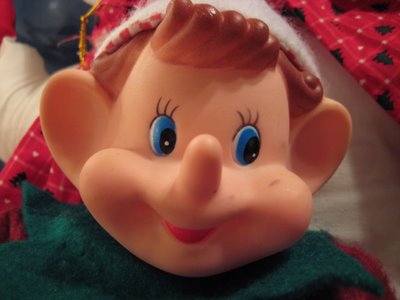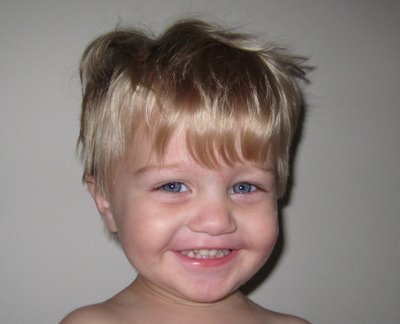 It's like you want to hate them, but you just can't do it. I love you, Jason! And I love you too, little Christmas elf!