The ward talent show was a success. Emily played Silent Night on the piano. Bradley played Joy to the World on the piano without shouting at anyone, and Emily, Bradley and Sarah played Jingle Bells on what else but the bells. Here's a clip. It would've been a perfect performance, but Bradley put the bells in the wrong hands. I was proud of his swift recovery.

Christmas decoration of the day: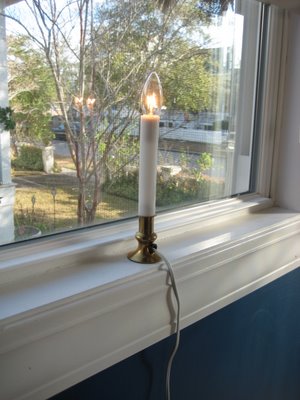 I love my candles in the windows. I began the tradition a few years ago. I went on a hunt to find electric candles and found some at AC Moore. At the time they weren't selling them at Walmart or Target. I was super happy. We live on a corner so we have two sides of a house to cover which includes 11 candles. I put them on timers so I wouldn't have to unplug them all each night. The past couple of years I've bought some spares on clearance after Christmas so this year I gave my next door neighbor the pleasure of looking at some on that side of the house.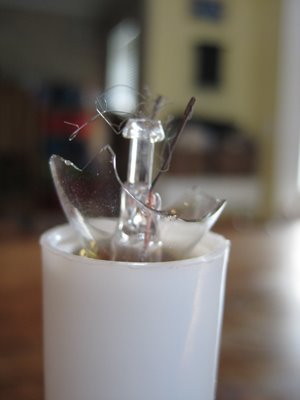 However, this has happened 4 too many times this season as a result of curious hands and clumsiness. So now I'm out of spare bulbs.