Ok
. Time to get busy with some catching up.
Sunday
My parents and sister arrived. Kids went crazy. We took naps. We cracked pecans. David and I spent 2 hours wrapping presents while my parents and sister watched the kids.
Monday
I am 8 weeks pregnant and noticed some bleeding. Went to the doctor and ultrasound showed a yolk sac, but no baby. It measured me at 4 weeks pregnant. Apparently the pregnancy stopped progressing which explains why I wasn't having morning sickness the past two weeks. (I thought I was going to get lucky for once and be one of those pregnant ladies that says, "I
love
being pregnant!") It's been my second early pregnancy loss in the past couple of months. Here are my theories:
Theory 1) Stress - either from unemployment, or the holidays, or both? Anyway, I was sad about not being pregnant anymore at first, but I am
totally
ok
with it now because I've got six kids and this may be mother nature's way of telling me, "You've got your hands full,
GIRL
!" I read about a study on mice that were exposed to noise in early pregnancy. It found that high levels of noise affected their
hormone
balance and they were more likely to miscarry. If that is true for humans, then it looks as if six kids is our stopping point, unless my husband sends me away on a quiet vacation during the first trimester until the placenta takes over the whole
hormone
thing - because our house is ALWAYS noisy!
Theory 2) My husband is shooting blanks.
Theory 3) The angels in heaven can't seem to find a
premortal
spirit willing to volunteer to be a seventh child in our family for whatever reason. So just in case heaven reads blogs - "Don't you worry spirit babies! You're Daddy will get a job soon. I promise we can feed you. Come on babies... Come to Mommy! Don't let the noise bother you."
On the bright side, I get to spend the next 3 months as I let a couple cycles run their course to get my house in order, do a little
feng
shui
-
ing
, have a yard sale, and get ready for baby #7. We are going to shoot for a December baby so we can get another tax deduction for 2009. AND if I conceive in March to produce a December baby, the Chinese lunar calendar says there's a 99% chance it will be a boy which is good because we need some more testosterone in this house. This spontaneously aborted yolk sac was scheduled to be a girl.
Later that day we baked cookies. It was a very cold day!
Tuesday
My brother and his family came to visit. We ate. We exchanged gifts. We went to the Festival of Lights. Talk about STRESS!!! This is an event where we kill three birds with one stone. We get to see the lights, ride the train
and
talk to Santa. It avoids a whole trip over to the mall across town to stand in line to talk to Santa and be pressured to buy a low quality picture for way too much money. You're allowed to take your own pictures at the Festival of Lights. I don't stress about what the kids wear because it's outdoors and it's an authentic visit for the kids to tell Santa what they want. Well, this year, we bought tickets to ride the train as soon as we arrived at the park. They give you a train time when you purchase your tickets. Ours was 9:30 PM and we were supposed to be there 10 minutes early. We went to stand in line to see Santa at 8:50 PM. The timing seemed to be perfect. But then Santa had to go pee at 9:05.
Come on Santa! Can't you just hold it for just 10 more minutes???
I saw his Santa suit and could tell this was not going to be a quick trip to the bathroom. We stood there debating whether we should stay or head over to the train. We decided to stay. Finally he finished his potty break and on his way back he dawdled and talked to kids in line.
Come on Santa!!! We are in a hurry!!!
I told my kids to shout to him what they wanted in case we didn't make it to his lap. Of course they didn't and we continued to wait in line. Everyone in front of us seemed to take their merry 'ole time talking to him. I even asked the lady in front of me if they would kindly let us go ahead of them, but when she took a look at all of our kids, she said. "No. Sorry." Finally at 9:25 we made it to his lap. I told the kids to hurry. I snapped this picture: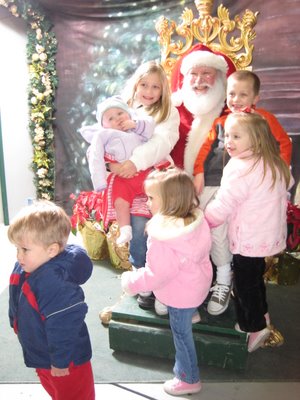 It looks like daytime, but it's actually night. There were just really bright lights.
Then we booked it over to the train station. I ran with Emily while holding Rachel, David pushed the double stroller with Wendy in it, my sister ran holding Sarah, and Bradley ran while pushing Jason in the umbrella stroller. We made it in the nick of time. I had forgotten that my watch was 2 minutes fast.The conductor didn't look too happy that we arrived last minute, but it all worked out and we got to see Santa and ride the train. It was a lot of fun. It got the adrenaline going.
Wednesday - Christmas Eve
5:30 AM - Our great idea of putting a Christmas tree on a sturdy black table, turned out to be not such a great idea. My sister was sleeping in the room that the tree was in and witnessed the event half asleep. I heard a soft voice at my bedroom door say, "Melinda, your tree just fell." I don't think my sister's voice represented how her heart felt at the moment. I am disappointed in myself that I didn't get a picture of the lifeless tree lying on the floor of the family room still in its stand securely bungeed strapped to the black table. I couldn't find my camera at the moment and I was worried about the gallon of rusty, dirty water that was surely soaking my carpet. I was also worried about my favorite chocolate chip cookie ornament that my grandmother gave us a few years ago. But these pictures I did get: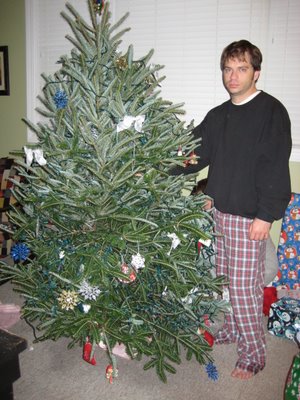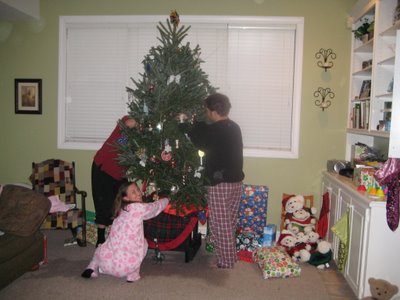 All the adults in the house worked hard to get the tree back upright, unwrap and dry the soaked presents. Luckily only 3 ornaments broke. My chocolate chip cookie ornament survived. We got rid of the table and now have a
squatty
tree and we have revealed to the neighbors that we have been
deceiving
them the past three weeks. I still don't know what caused it to fall. I have my theories, but whatever, it's fixed and all is well. We finished the ordeal at sunrise and went back to bed. I'm just glad it didn't happen Christmas morning.
Later that day David and I got to wrap about 20 presents all over again. Yippeee!!! Later that day we also got to redecorate the Christmas tree. I've always wanted to trim a tree on Christmas Eve.
We opened presents from each other. Pictures coming soon...
Thursday - Christmas Day
I think I'll write about that tomorrow. All of this reliving the past is making me tired.