Tonight we bought our Christmas tree. We go for the real deal. I love the smell of real sappy pine in my home during the holidays. Pine scented candles and Glade air fresheners just don't cut it.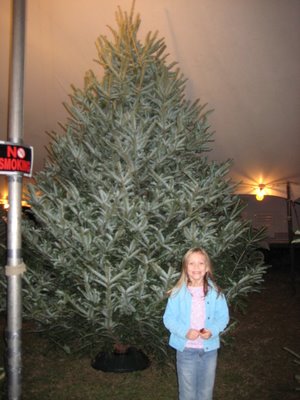 This is the tree I wanted, but it was slightly out of our price range and I would've had to buy a gazillion more strands of lights for it.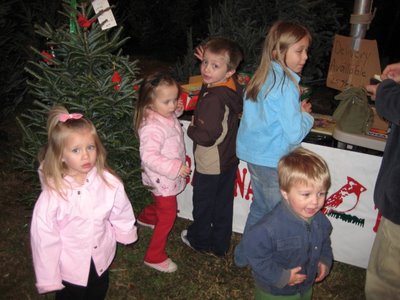 We settled for a bargain priced 6-7 footer that was missing it's top. Most 6-7 foot trees were priced between $65-75. The one we picked was $50. I had no idea tree tops were so valuable!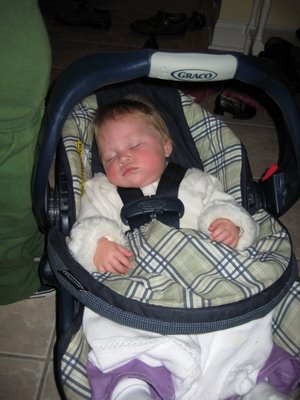 We came home and Rachel slept through her first bringing-the-Christmas-tree-into-the-house experience.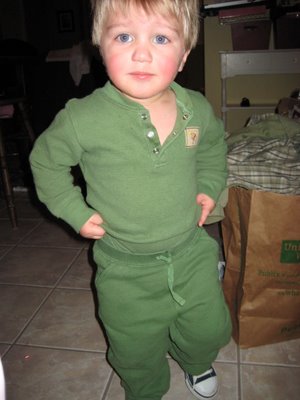 Jason decided he no longer wanted to wear his Mr. Green warm outfit and insisted on changing into the clothes he had been wearing before we left to go buy a tree.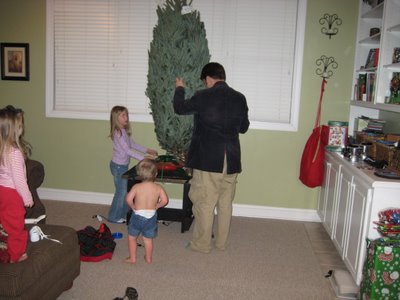 We normally like to get a taller tree, but since we were never able to keep ornaments on the bottom two feet of the tree last year, we opted to put our tree on a table this year and save our selves about $40. I bought that table at Goodwill last year and it's been kind of a nuissance ever since. I'm glad to know that it's finally being put to good use. From the window the tree looks normal. We are such deceptive neighbors!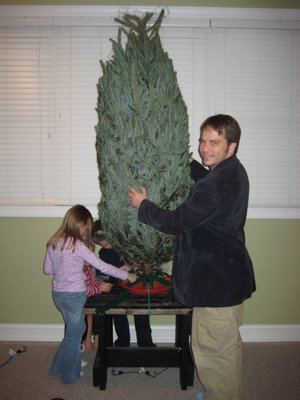 Although the tree is considred topless, it actually still has a nice little stub for the star. Sarah received the privelage of placing it.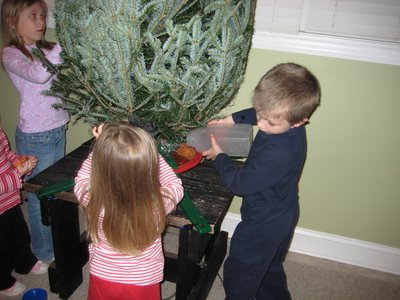 Bradley watered it.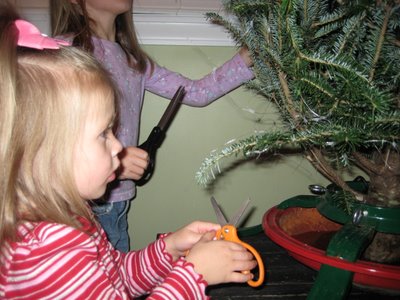 The girls cut off the netting.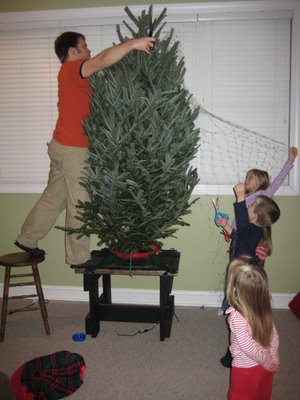 Daddy helped.
I put the lights on tonight and the kids and I are going to place the ornaments tomorrow. I'll post a picture then. I love Christmas time. It's such a magical and fun time for the children. Tonight as we drove down our street, the kids saw the garland and lights on our porch railing and they broke out in applause and "woo hoos."