This morning I awoke at 8:30 AM. I wanted to get up and get busy with cleaning, but I just couldn't. I was tired. Emily crawled in bed with us. About 20 minutes later Bradley came in and said, "Emily, are you finished with your dream yet?" Apparently Emily was prematurely awoken by her siblings and she crawled in bed with us to finish her enjoyable dream about going to Disneyland with Alvin and the Chipmunks. I would've wanted to finish that one too.
We actually got up at 9 AM and cleaned our bedroom. Unfortunatley our bedroom is located beside the laundry room and it always collects stray laundry and piles of clothes that either need to be retired, stored away or ironed. It's annoying.

We ate breakfast at about 10 AM after the kids complained that they were starving. It was cold cereal and an extra special treat of Barbie cereal that Wendy picked out at the grocery store last week.

Then we went outside to quickly water the plants before our 1 hour Saturday speed cleaning. It turned out to be not so quick as we got involved with weeding and murdering Japenese Beetles that are pestering and eating our garden. We are officially not organic gardeners anymore. My husband very much enjoys chasing around the yard squirting beetles with liquid Sevin and watching them die, especially the mating ones because the possibility of any future beetles is also destroyed. I harvested 4 strawberries and admired my first sunflower bloom.
They're small, but pretty.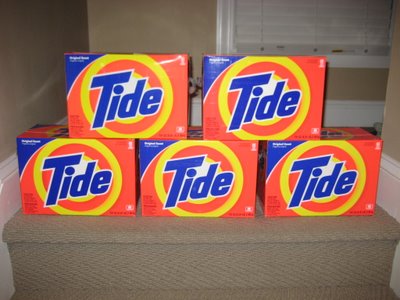 Emily had a great time using the self check out. Then we went to the car wash to vacuum the car. It was so messy it took 2 times and $2 to get it all vacuumed. I vacuumed like mad to get my money's worth. Finally we went to Walmart to grocery shop. We both enjoyed a nice vanilla ice cream cone from McDonalds. I stocked up on some staples such as oatmeal, grits, flour and beans. A lot of times a checker will ask me if I am having a party when I purchase food in bulk. But today as she scanned my two 20 pound bags of pinto beans the checker said, "Do you run an orphanage?" I looked at her trying to process the question to make sure I heard it right. I determined that I did and I explained that I like to store food for emergencies. She thought that was cool.
We came home, unloaded groceries, ate hot dogs for dinner and went to the pool.
Going in style. Sarah wears those boots with everything.
It was fun. We came home, ate a bite of cookie dough (Tollhouse), and bathed. Sarah was excited to take her own bath with her "special" soap. Bradley got a hair cut so he no longer looks like he is wearing a helmet and the kids went to bed.

Phew! What a day! I'm looking forward to a day of rest.