Today was Sarah's "special day" to run errands with me. We went to Barnes and Noble per her request. We looked at books while it stormed outside. We played stuffed animals. She was dogs and I was cats. We put gas in the car. We dropped junk off at Goodwill. We ran into Walmart in the rain and shopped for cotton swabs, bandages and food. We went to my favorite grocery store after Walmart to stock up on Buy One Get One Free pasta. I loaded the cart with about 24 boxes (4 boxes of each shape.) The lady beside me in the aisle watched me. I looked at her look at me and she asked, "What are you going to do with all that pasta?"
"Eat it."
"You must like pasta."
"Well, my kids do. I have six of them and they eat it almost everyday."
"You have six kids?"
It was at this point I couldn't tell if her expression was shock or disgust.
"Do you think that's a lot of kids?"
"Uh, yeah."
She went on to tell me how she didn't know how we did it. She told me she has one kid and her husband makes good money and with the way the economy is going she just couldn't understand how a large family can make it work because it's difficult enough for them. I basically told her we do without a lot of things and live pretty basic. I still couldn't tell if she was disgusted. I think it may have just been plain bewilderment. I really didn't think 24 boxes of pasta was that big of a deal especially when it was on sale. She asked if my husband and I came from big families. I told her we didn't and that we just enjoyed having kids. She became even more shocked when she asked if we were going to have more and I told her yes. It was kind of an awkward conversation, but fun.
When I checked out, the cashier said, "That's a lot of pasta!" Seriously, does no one in this town ever stock up on anything? The bagger then offered to assist me to my car. I told him that it wasn't necessary. I didn't want him to see the evidence in my trunk of my shopping at Walmart. But he insisted and I agreed. When I opened my trunk, he gasped and said, "You've been shopping somewhere else today!" BUSTED! I wanted to throw my arms around him and tell him I was so sorry, but I refrained and quietly admitted that I was a traitor and that I do most of my shopping at Walmart. I felt awful. Again I used my favorite grocery store for the deals. Out of guilt during my shopping trip, I purchased 3 reusable shopping bags and 2 bags of garbanzo beans because Walmart doesn't have garbanzo beans. What's up with that?
On my way home I thought about my conversation with the lady in the pasta aisle. I'm curious why she thinks it would be so difficult for a large family to make ends meet. My life is my life and it's all I know. I don't live a life of luxury, but it's still good. I would love to see new releases in the theatre, but will patiently wait for them to come on TNT. 12 passenger vans simply just don't come with many expensive upgrade options. I don't feel it necessary to have to pay for preschool because my kids have plenty of in-house socialization and access to Noggin. We are trying to raise our kids to be as genious as possible so they will have plenty of college scholarship opportunites. We aren't currently saving for retirement because we are raising our retirement. We don't buy video games or many electronic toys that use batteries or expensive accessories. We budget (maximum $25) for one meal out per week: pizza, Wendy's, Taco Bell, or kids eat free night. We buy store brand, cheap toilet paper and Ivory soap. I only take kids to the doctor for vaccinations, or if they have a fever for more than five days, or if they need stitches. I shop clearance racks and won't spend more than $10 on any clothing item, unless it is a dress. I often get items for $5 or less. I buy $0.99 baby soap at Target. I don't have a gym membership because I have constant access to a 45, 40, 30, and 15 lb. set of weights. The kids only get one pair of shoes for Spring/Summer, one pair for Fall/Winter and one pair for church and many are hand-me-downs. We only have family birthday parties with homemade cake and one simple birthday present. We have a three bedroom house and the kids love sharing a room. I think the most expensive piece of furniture we have ever purchased is our king size bed for $1100 (best purchase ever!) when we gave the girls our queen. I will gladly buy used furniture and fix it up, except for mattresses or couches. We mow our own lawn. We don't take many vacations except to visit family. We find fun in feeding the neighborhood geese on a Saturday afternoon.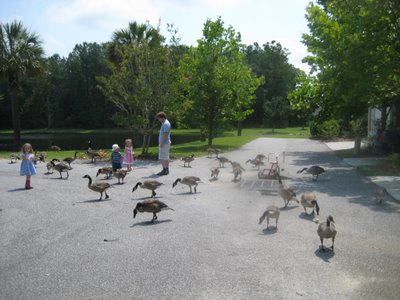 There were 36 of them today.

I don't have time to shop much. Who needs shopping when you've got blogging? And of course, I stock up on food that is on sale. So that's how we do it. I love my life even if I don't have surround sound and trips to Hawaii. Kids are the best! We've been blessed.