So tradition has it in our family the kids draw names and they make that person a gift. Of course they are young and require help and brainstorming assistance, but it's a lot of fun. Emily told me this year that it's her favorite part of Christmas.
So this is what we came up with this year. I apologize for some not-so-good photos. I actually broke out the camcorder this year and put my sister and dad in charge of taking the photos. And it's not that they aren't good photographers, it's just that they are not blogger photographers. They aren't thinking, "I need a good photo for the blog." Also, someone set my camera to the Kids and Pets setting, which of course makes sense, but for some reason my camera doesn't take good pictures on that setting. But here they are: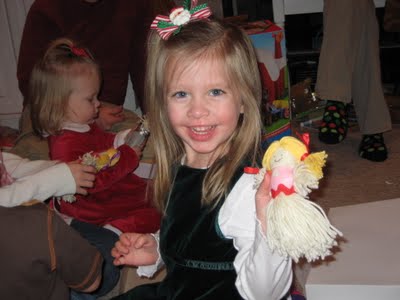 There is a Dad, Mom, little girl and little boy. Wendy is holding the little girl. One of these days I will have to get a family photo before they get destroyed. I got the idea from
here
.
From: Wendy
Ring Toss Game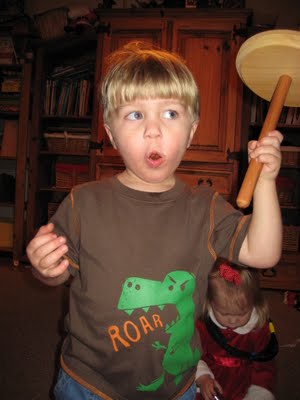 This is Jason holding one of the ring toss poles and pretending it's an umbrella. Credit goes to my dad for making the ring poles.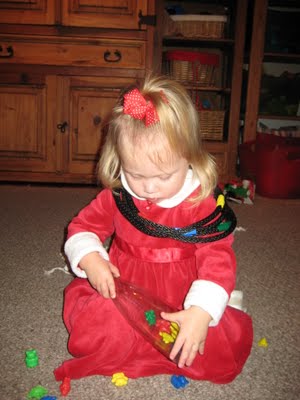 But it never occured to me that we didn't even need poles. We could've just used Rachel's head. (The counting bears have nothing to do with the gift.)
Super J Cape

Emily designed it. I sewed it. I am ashamed to say it's already falling apart. I need to do some mending.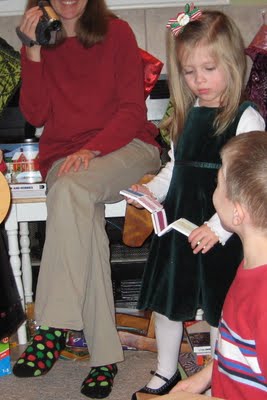 Wendy is holding the ladder. It's basically 6 pieces of square wood that I Modge Podged some polka dot print paper to and then my dad helped me to carefully nail strips of ribbon to make a nifty toy. The ribbon nailing was a little more intense that I had thought it was going to be and I was thankful I had my dad with his patience and help. (Notice my polka dot socks too.)
Trick Wallet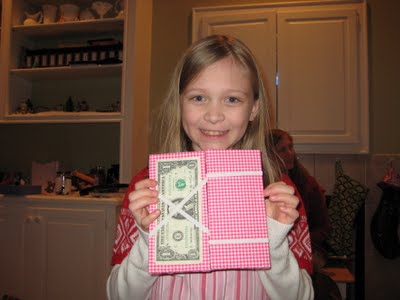 This was fun and easy to make. I saw a
video tutorial
online that I modified. It's pretty much cereal box cardboard, fabric, and elastic put together with some masking tape and a hot glue gun. The outside has a matching floral print. Emily thought it was pretty cool.
These are pretty cool. My dad gets full credit for making these fully functional. There are holes to adust them higher. Bradley hasn't tried them outside yet because the ground was so soppy and now it's just too cold. But hopefully soon.