Christmas Eve was a day of festivities. The weather was rainy and humid. I actually needed to turn on my air conditioning to only find out that it didn't work! I just spent $225 earlier that week to fix the heater upstairs! I set aside the frustration and decided not to worry about it until it gets warm again. Right now on January 4
th
as I write this, it's 27 degrees outside. The last thing I need is AC. Here are some pics to describe December 24
th
: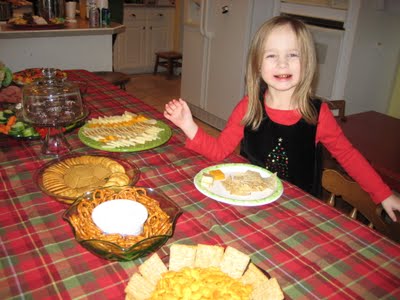 The snack spread. We had cheese and crackers, vegetables and dip,
beefstick
, pretzels and cream cheese, Goldfish crackers, rye bread dip, and 7 layer bean dip with tortilla chips.
After snacks we opened some presents from Aunt
Chera
and Grammy and Papa Dave (David's parents and sister.) Rachel got a cute little bunny from
Chera
that came from London. The kids also got some magazine subscriptions to kid magazines from David's parents and some toys.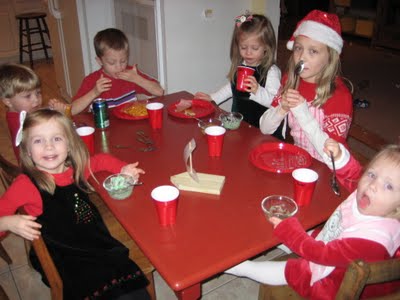 We took a dinner break. It was ham, scalloped potatoes, sweet potato casserole, rolls, and Jello. The kids pretty much ate Jello, applesauce, and Goldfish.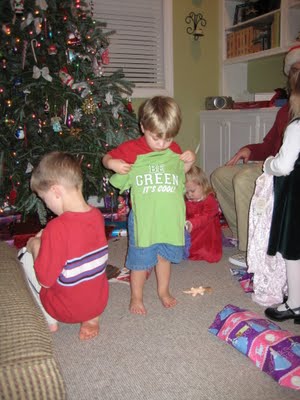 After dinner we opened more presents. Mommy and Daddy gave the kids Target clearance clothes and each a toy. Jason got a T-shirt that says, "Be Green. It's Cool." (His favorite color is green.)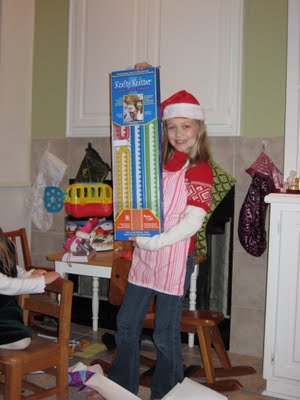 Emily got a
Knifty
Knitter. It's pretty cool. I've been having fun with it. I think next year everyone will be getting scarves from Emily.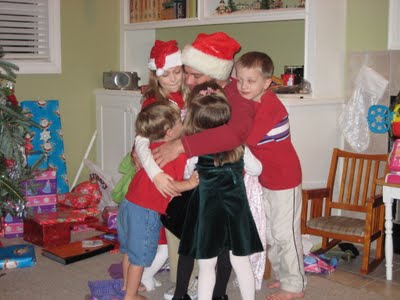 The kids gave Daddy a pickle jar of 60 Reasons Why They Love Him. I got the idea from Family Fun Magazine. We originally tried to gather 365 reasons, but 60 is all we could come up with, for now at least. We'll have to add more later. My favorite is: "He's good at shooting bugs with
rubber bands
." -Bradley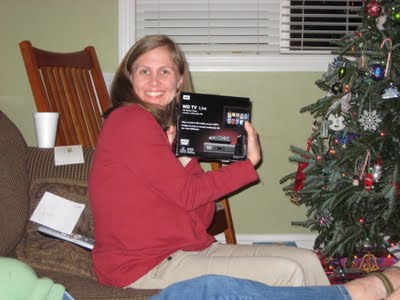 David got me a
WD
TV Live. David was extremely disappointed that I
didn't
' get more excited about it. I thought I was getting an
iPod
with a speaker system, so I had to shift modes and try to understand what a
WD
TV Live even is. Basically it's a technological device that allows you to hook it up to your computer network and watch things you have downloaded to a hard drive on your TV. I'm still trying to learn it. But it is pretty cool. The kids already know how to work it. It's cool because we can watch our camera videos on the TV now.
Supposedly
there's a way to watch
Hulu
and other
Internet
stuff on TV, but we need to get a new compatible router and some software. I'm such not a tech geek. It takes me a while to learn this stuff.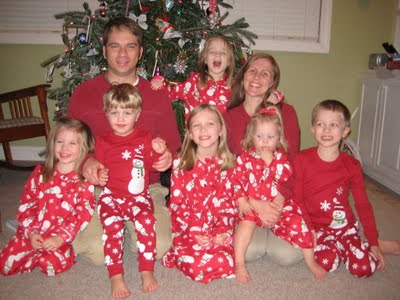 The traditional Christmas
PJ
pose. My parents found these cool pajamas at
Gymboree
this year. It's amazing they could find them all in the right sizes. Too bad they didn't have adult sizes. Normally it would be a picture of just the kids, but Jason was being stubborn and needed to sit on a lap.
To be continued...