So a friend of mine posted her 100th post today, which made me look to see what number I was on, and low and behold today is my 1000th! How cool is that? A while ago I had meant to remember and celebrate and I'm so glad for the reminder because I totally would've forgotten!
So what better topic to post about for a 1000th post than to post about organization. I've been on an organization spree the past week. I think it might be a pre-nesting thing, or maybe just the fact that my house has been in absolute disarray going from 2 months of morning sickness, to Thanksgiving, to Christmas.
My husband finally kindly requested for me to get his office in order because that is where all the junk ended up over the holidays. His "office" happens to be the old boys' bedroom until we moved all the kids into the large master bedroom last January. So the closet in the office is, or actually was, full of bins of boys clothing. Now that I know we are having a boy, it's makes the whole organizing kid clothing thing easier. Basically I emptied out the office closet and moved it all to the current kids' bedroom closet. The office closet will now be a food storage closet full of 6 gallon buckets and #10 cans and I'm quite excited about it. Pictures will come soon.
Anyway, sorting the boys clothing was quite exhausting today. Sizing can get so confusing. There are:
1-3 months
3-6 months
6-9 months
12 months
18 months
24 months
2T
3T
4T
5T
Size 4
Size 4/5
Size 5
Size 5/6
Size 6
Size 6/7
Size 7S
Size 7X
I just don't always know how to group them together because the sizing can all be so different. I wish there was more standardized labeling amongst the brands. Because, seriously, you would think that size 4T and size 4 would be the same, but they are not. Size 4 is really about the same as 5T. And then Gymboree loves to label their infant stuff 6-12 month and 12-18 month and it always seems to run huge. Oh the dilemma of which bin to put it in!! Anyway, enough of the rambling.....
Two days ago I took care of the major sock issue we were facing. Children's socks were EVERYWHERE in our house. I bought a nice over the door shoe organizer at Walmart. Each child gets their own pocket for their socks. There are also pockets for the different sized tights, slips, ruffle socks and brand new packages of Target clearance socks. My husband laughed at me when he saw my solution. He didn't have faith that it would work because he thought Jason would likely get into it and there would be socks scattered around the bedroom in the morning. So far so good. I told my husband I have to at least attempt a solution. So here is a picture to prove what a genius I am: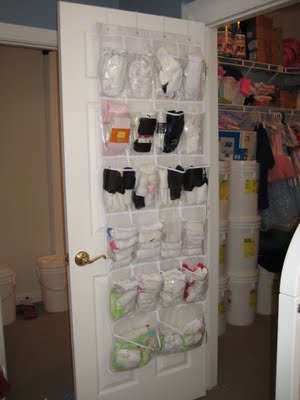 Slips, tanks, ruffle socks, and knee socks.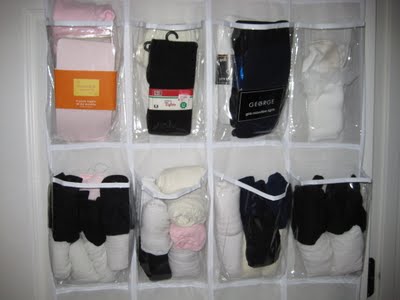 Tights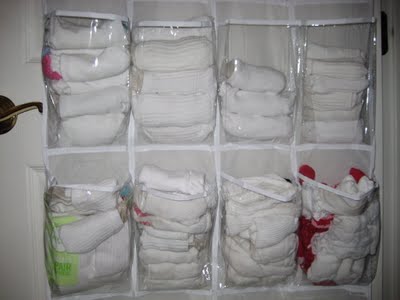 A pocket of socks for each kid, including the new baby and the 8th pocket is for more ruffly socks. Poor Sarah only has 3 pairs of socks. I have no idea what happened to all of them.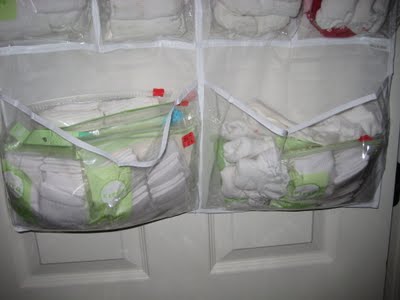 Packages of brand new Target clearance socks.

Yay for organization!! And yes, a 1000th post could've been so much more interesting, but this is my life.