I'm a real Christmas tree kind of person. Growing up we had a very ugly artificial tree from the 60's I think. I never knew "real" until I was about 10 and we decided the ugly tree wouldn't look good in the new house, so my parents bought a real one. I remember going from lot to lot looking for the "perfect" tree with the whole family.
The new tradition was a lot of fun. However, we managed to wreck the beautiful live tree by draping icicles on it. It looked pretty at night when the lights sparkled on them, but in the daytime it looked like someone puked tinsel on the tree. I think we only did that one year. In later years our family started putting up two trees, a real one in the cozy family room with colored lights and an artificial one in the living room with white lights. I think my parents probably got the artificial one on sale or something after Christmas. This
artificial
one was much prettier than the old one. The only problem was that it was before the days of
prelit
trees and my Dad would spend hours putting about 1000 lights on it perfectly up and down each branch. It was tall, very bright and beautiful, and worth my Dad's effort.
Anyway, enough about my history. I've decided to keep the real tree
tradition
. I just love the smell of pine and the activity of going to get the tree. Thankfully we live in an area where they sell Frasier Firs that look beautiful no matter what shape and size they are. There is no need to jump from lot to lot to find the perfect tree. They also last about 6 weeks. They're awesome and worth the money. I budgeted $80 for a tree this year. It seems like a lot of money, but I consider it as my Christmas gift. I'm home all day long every day. I certainly get full enjoyment out of the beauty, smell, and tradition. The Christmas tree becomes a member of the family for at least 4 weeks.
This year the prices seemed more reasonable than years past. We found a beautiful 8 foot tree for $60. Plus we received $5 off because we are regular customers. Because we saved some money, we decided to invest in a new Christmas tree stand since
last year's mishap
bent our old one out of shape and it's all rusted and nasty.
While at the lot I snapped some pictures: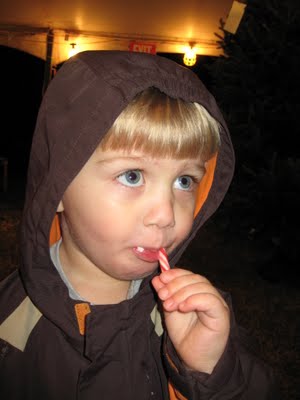 Nothing says Christmas like a mini candy cane.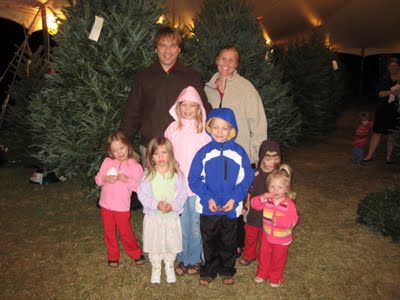 The guy working there offered to take a family photo. He works there every year and recognizes us every year.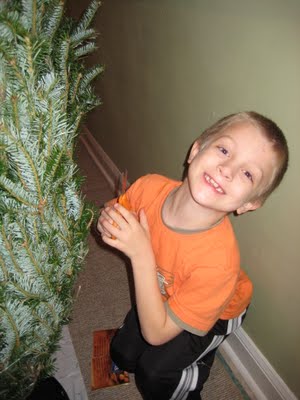 Cutting the netting off.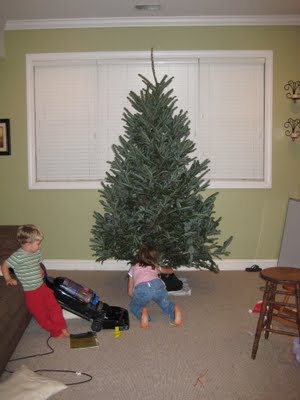 Filling the stand with water.



Rocking around the Christmas tree.
The kids watched me while I put the light on the tree. Emily really wanted to help, but I wouldn't let her. I told her that when I was little, Papa put the lights on the tree while Nana sat on the couch and directed. Emily took it to heart and was very quick to tell me where my gaps and clusters of lights were.
We explained to the kids not to touch the Christmas tree lights because they contain lead. Sarah wondered why it was bad to touch lead. Emily explained that if you touch it and put your fingers in your mouth you get dumb. Later Wendy warned, "If you touch the Christmas lights and put your fingers in your mouth, you look weird." I don't know exactly what my husband has told them, but it's been effective.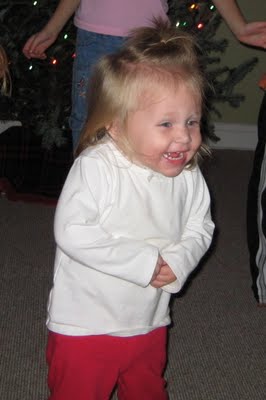 This is so fun!