I'm a total lame-butt blogger, but it's that time of year when the blogging gets put on the back burner and the cookie baking and wassail brewing gets priority. I'll try to catch you up to date:
Thursday, December 3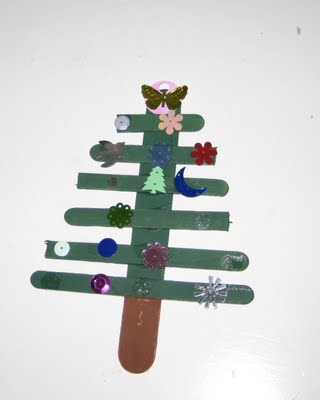 I made popsicle stick Christmas trees with the kids. It was a craft in Family Fun magazine. This one is Emily's. Some of her ornaments fell off because the tacky glue wasn't so tacky. I made one too. It was prettier, but I can't find it to take a picture of it.

Friday, December 3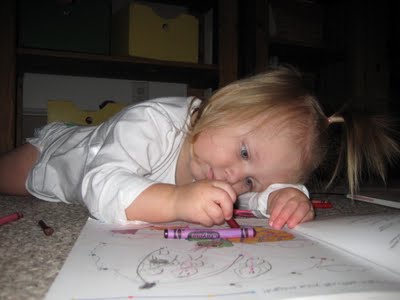 Rachel concentrates on coloring a dot-to-dot.
Saturday, December 5
David and I had some training at church. I cleaned the house some. Pretty much an uneventful day. David took Emily and Bradley to Barnes and Noble with him to buy our traditional bargain books that we give each other each year while I stayed home with the young ones and watched The Year Without a Santa Claus. It was educator discount day so we got 25% off books we bought, instead of the regular 20% with our educator discount card. Unfortunatley the bargain books don't seem to be quite the bargain they've been in years past.
Sunday, December 6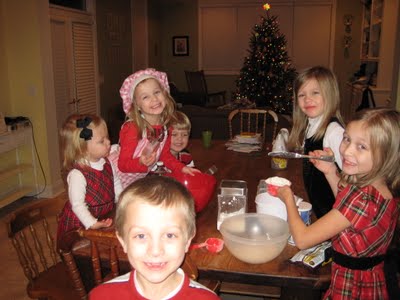 Tonight was the the
First Presidency Christmas Devotional
. We made our traditional chocolate chip cookies. I forgot to buy the Tollhouse cookie dough this weekend, but thankfully I had the ingredients to make them from scratch and willing bakers to help.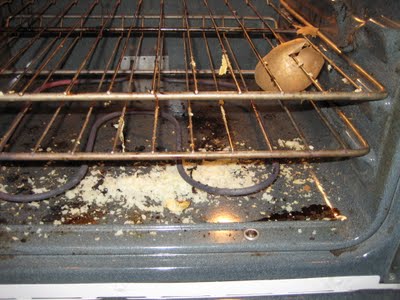 I forgot that a baked potato had exploded in the oven on Thursday, so when I preheated the oven it started to smell pretty bad. I was able to clean out the debris without burning myself. However, while I was cleaning the oven this happened: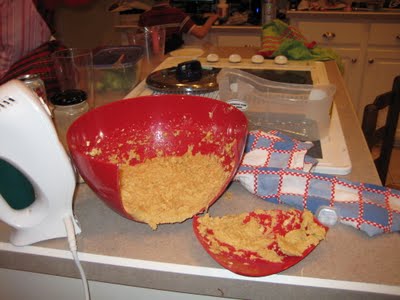 Someone tried to dip a finger into the creamed sugar and butter and knocked one of my favorite red bowls onto the floor. Thankfully the cookie dough was able to be salvaged and we transferred it to a new bowl and we continued to add flour. I'm going to miss that bowl. It was such a perfect bowl to eat popcorn out of, expecially at Christmastime. :(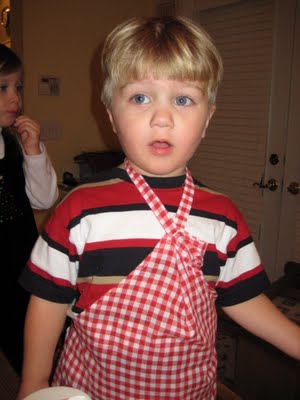 Do you think that certain someone may have been this kid? I think a kid who can't even put an apron on correctly could very well be capable of knocking bowl onto the floor. We still love him. His nursery leader commented on how much they love Jason. I told her that if she had him for a full 24 hours that she might think differently.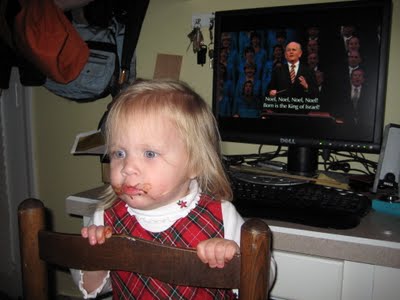 Once the cookies were baked, we poured some milk and watched the devotional The opening hymn was The First Noel.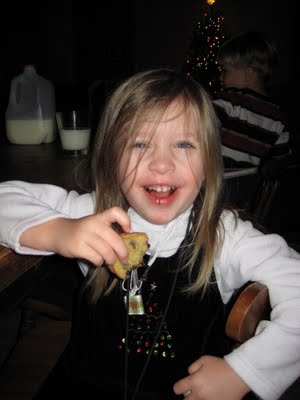 Wendy was kind of sick today. But not too sick to enjoy a cookie (or four of them).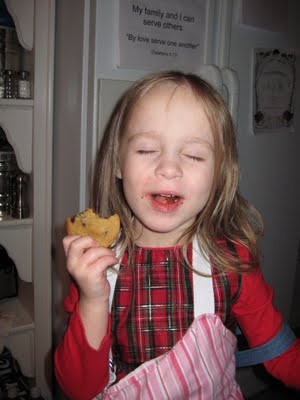 The kids thought it was pretty cool that Sarah and Wendy were wearing the same dresses as
last year
when we watched the devotional. Does that mean my kids haven't grown over the past year?
Now onto week two of Christmas preparations...