Monday, December 7
Monday was not my favorite day this week. It started with this in the morning before breakfast: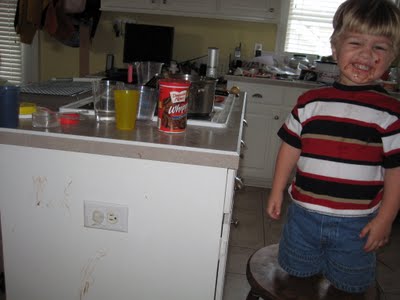 I thought I had thrown that chocolate frosting out or at least put it in a good hiding place. Jason somehow sniffed it out and decided to eat it as a breakfast appetizer. He's totally proud of it too.
My main goal was to get the kitchen floors clean on Monday. I put the chairs on the table in the morning so it would force me to clean them before lunch. Well, they didn't get cleaned before lunch, so the kids asked me where they should eat their macaroni and cheese. I said, "I don't know. Just find a place." This is where and how they chose to eat it: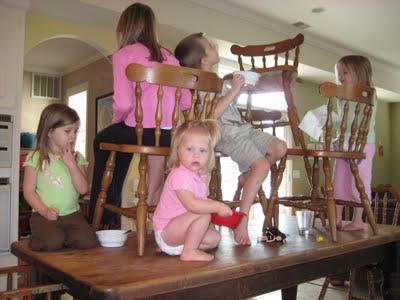 Jason got mad about something at lunch. I never did figure it out. I think it was because I wouldn't let him eat his macaroni and cheese standing up on a chair that was on the table. This caused him to throw his macaroni on the floor. It made a mess and I asked him to clean it up. Of course he didn't. He's three. About a half hour later I cleaned it up and he got mad that I cleaned it. I think he was planning to eat it off the floor later. It was a nasty tantrum. Later he cracked open a Sprite. I gave him some to try to mend things and he was upset that I didn't pour enough into his cup. He wanted it an 1/8 inch from the top and not a 1/4 inch. So he dumped it in the sink and proceeded to go to the fridge to get another one. I parked a kitchen chair in front of the fridge door and sat there so he couldn't open it. That made him MAD! He finally go over it.
Later that night we had Family Home Evening. You can tell my smile is pretty fake. It was a rough, long day. And you can see that Jason is throwing a fit about something. I think this time it was because we had him put a pink blanket over his naked bottom half so we didn't have any penis in the picture. Little boys!!!
On Tuesday I had a doctor's appointment. The baby had a heartbeat. 154 beats per minute. The doctor said he could feel that my uterus is starting to come out more. I have a retroverted uterus which means that the it flops backwards and likes to put pressure on my spine and cause lower back pain. I never knew I had a retroverted uterus until this pregnancy. From what I've read it can become retroverted after pregnancies. Just imagine blowing up a balloon as big as it can get six times. Well, that's my uterus. Nice and stretched and floppy. My lower back pain is starting to go away thank goodness.
Also on Tuesday morning Wendy woke up with a funky swollen eye. For those of you who know Wendy, she is much prettier than this: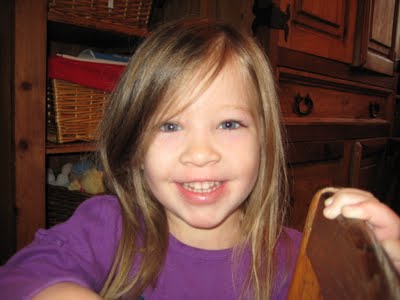 Later in the day she developed hives on her legs, thighs, stomach and back. She's had a cold for the past few days, but no fever. I did some reading and learned that viruses can causes hives like that. I never knew that. Her other eye was swollen this morning, but the hives went away. I was so afraid that she was allergic to our Christmas tree. I don't think she is. Let's hope not at least.
Last night we began our tradition of making Christmas gifts. It was Emily's turn to make hers for her secret sibling. I can't say what it is, but it involved sewing, and it's not a bird or a plane.
I printed my Christmas card letter today. After 2 letters printed, my fairly new printer told me that the printer toner was gone. I knew it wasn't gone because there was nothing to indicate on the printed pages that it was even low. But the printer pretty much locks up and you can't print anything until you buy a new one. So I went online and tried to find a good deal. It was about $50 at Amazon. I didn't really want to spend that much or wait several days to receive it. To get one locally would cost me about $70. As I was reading the reviews on Amazon procrastinating and trying to decide what to do, I read a tip that said to put some masking tape over the clear round sensor on the toner cartridge and it will still work. Apparently Brother has these cartridges to send out a LED light through this sensor after so long that tells the printer to stop printing, making the customer think that they have to go buy a new one before the toner is actually even out. How awful is that? Anyway, the masking tape trick worked and I was able to print my letters. Yay! Now I just have to print my address labels. And help Bradley with his gift tonight......

It's the most wonderful time of the year! And I don't mean that sarcastically. It really it is. Three year olds can just make it a little more difficult to believe it.