Tonight it was apparent that I must do laundry tomorrow. Sarah and Wendy came downstairs in tears when they discovered their pajama drawer was empty. I don't know why it was empty because I usually have enough pajamas to last a week. Perhaps there are hidden pajamas under beds or in messy closets. I shall hunt for them. To console Sarah and Wendy, I told them to just pick some comfortable clothes to sleep in. Thankfully they agreed to my suggestion.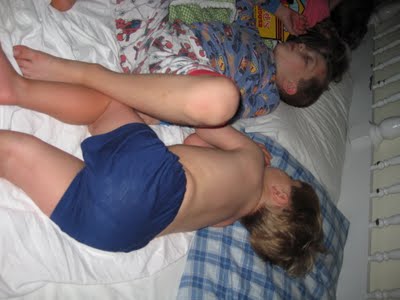 Jason also was short a pajama shirt, but it doesn't seem to bother him because it happens often. I'm not quite sure why I don't have a good supply of 3T boy pajamas.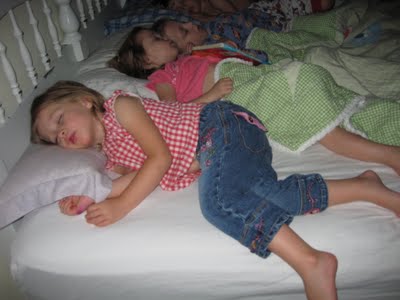 When I said, "comfortable pajamas" I was thinking something like cotton knit shorts and a T shirt, but Wendy opted for capri jeans and a shirt that is way too small.
Sarah chose a cotton shirt, cotton capris, and a toothbrush.
(Every now and then I have trouble with Blogger uploading my photos in the wrong direction. I usually persevere until they upload correctly, but not today.)
We Trunk or Treated tonight, but I think I'm going to wait to post the Halloween pictures on Saturday. I didn't get a good one of each of the kids.