I'm convinced that my son has a built-in chocolate radar. Last night I removed the chocolate from this cupboard to prevent Jason from raiding it . Today I let him climb on the counter so I could watch him make the disappointing discovery. To my surprise, he took it to the next level and actually found some fun size M&M packages that I stowed away a long time ago on the second shelf. I didn't see those last night. I let him eat one or two packages before lunch because when I'm sick, I simply don't care. Then after he left the room I hid them.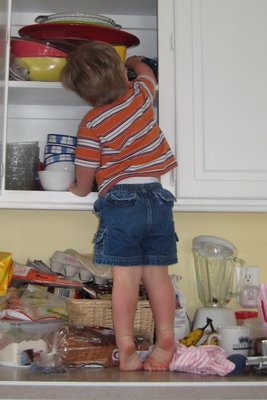 12:30 PM
However just 4 hours later, he decided to take a look at the neighboring cupboard and found my stash of Hershey Bars. So I let him eat half a Hershey Bar because I'm sick and I simply don't care. (You can also see by the looks of my kitchen counters, that I don't care about them either.) I made him share the other half of the Hershey Bar with his sisters.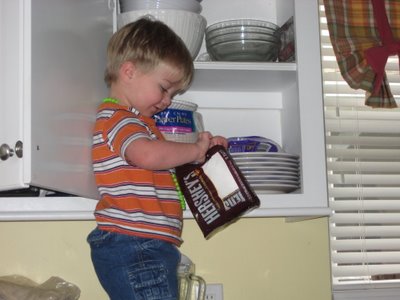 4:30 PM
He's going to be mad when I'm feeling better.
Oh, and if you're searching for some chocolate and can't find any, give me a call. I'm renting out my chocolate detector for $25/day. What a deal!
I'm going to go finish being sick now.