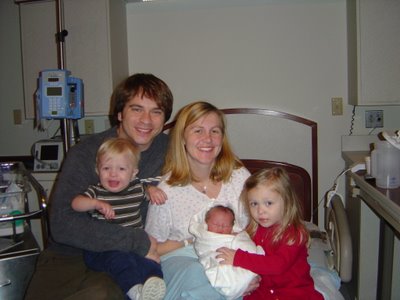 February 2004
(I'm embarrassed about my dyed hair.)
Sarah was my baby doll baby. Born 6 lbs. 1 oz. at 4:38 in the morning. After her birth I hoped to never have an early morning baby again. My husband doesn't do well with little to no sleep. When we were at the hospital, I couldn't get comfortable in the hospital bed at about 2:30 am while I was laboring. The nurse asked me, "Would you like to put your legs up?" Half asleep in the chair next to me, my husband answers her, "No, thank you, I'm fine." I gave him a look that said, "You fool. She's talking to the pregnant lady in labor!" I might have said some unkind words too, but I forget. He did wake up for the delivery and I forgave him for falling asleep. I give him credit for trying. I think he drank 4 Diet Cokes and a Rock Star at the hospital. It was a lonely labor, but it was probably a lonely labor for many women that day because it was Super Bowl Sunday.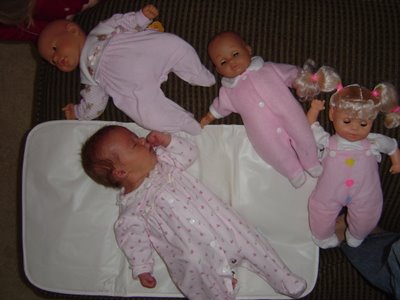 Where's Sarah?
Sarah turned 5 years old today. She bore her testimony at church for the first time. She felt special today because she woke up to a new dress (Walmart Christmas clearance) and a new necklace to wear to church. We established a new tradition today that the birthday person gets to say the prayer at all the meals. Emily didn't think it was quite fair, but then she realized that her birthday is next.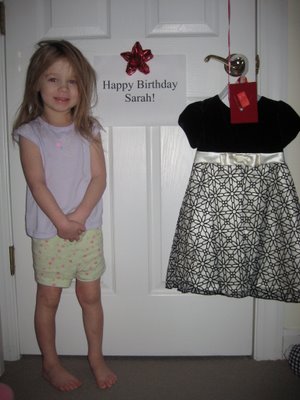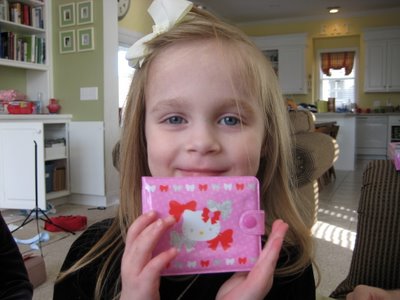 She loved her new Hello Kitty wallet from my parents. She actually got 5 dollars too. Poor Bradley only got 2 dollars on his sixth birthday. I gave my parents a hard time for that. Surely they had 4 more ones somewhere in the house.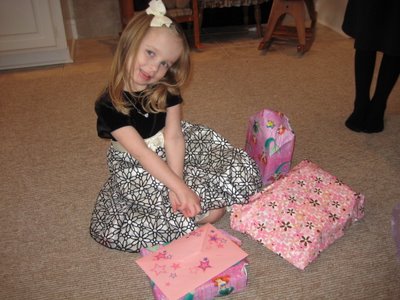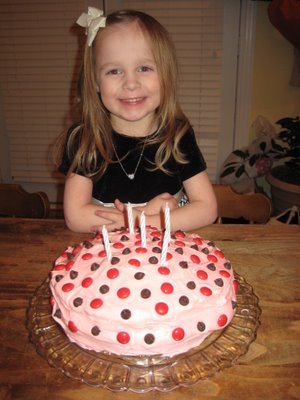 She loved her cake.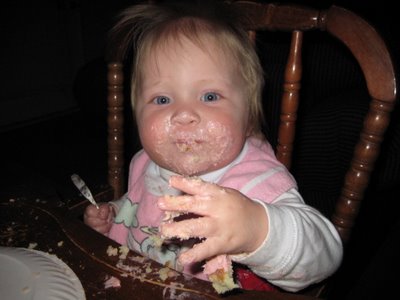 Rachel did too.
Tonight as we watched Kitty Half Time on Puppy Bowl V, Sarah said to me, "Today was a good birthday!" I can't believe she's five already. She's still wearing size 3T!