Traditionally we go to an inexpensive portrait studio such as JC Penney once a year to have nice formal pictures taken of the children. It's about that time again and I don't want to go. It's a stressload getting the coordinating clothes picked out, curling and styling the hair just perfectly, packing the snacks, bribes, and change of clothes, trying to schedule the appointment just right to avoid hungry grumps and sleepy toddlers, driving to the studio which will probably cost $20 in gas, and Mommy and Daddy acting liky loonies trying to get the perfect smile, not to mention the $400 we would probably fork out for portraits of each of them including a group shot (good luck with that one!) We desire so much to have the "perfect" picture to hang on our wall, send to relatives and put in a keepsake box. But considering my kids actually look like they look in their formal portraits about 1% of the time, I opted to keep it real and do my own photo shoot "as is" this afternoon with my handy point-and-shoot camera and Picasa software. Here are my results. Cost: $0.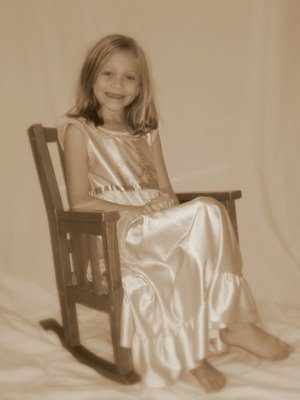 Emily, age 7.
She's wearing a polyester, pink princess nightgown. Don't let the pretty smile fool you. Her face has Oreo remnants and her hair hold's a lovely rat's nest on the back of her head.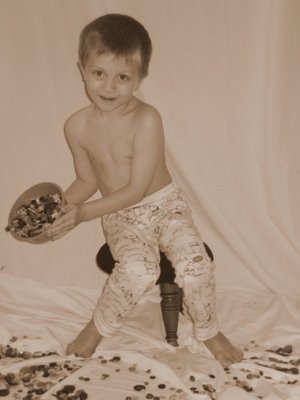 Bradley, age 5 1/2.
Bradley was clad in only his Old Navy pajama pants because he doesn't like to wear a shirt. He's holding a bowlful of buttons that laid scattered on the family room floor most of the afternoon.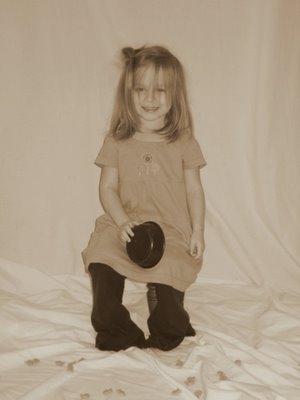 Sarah, age 4
Sarah's hair is impossible to keep tidy. She's wearing a 100% cotton dress with cotton pants 2 sizes too big. Scattered around her are the Goldish Crackers she was snacking on this morning while watching Spongebob.
Wendy, age 3
She's dressed in a play hair dresser's smock. I think she desires to be a beautician and practiced by clipping some layers in her own hair this weekend. Scattered about her are Cheerios to represent the box she dumped yesterday.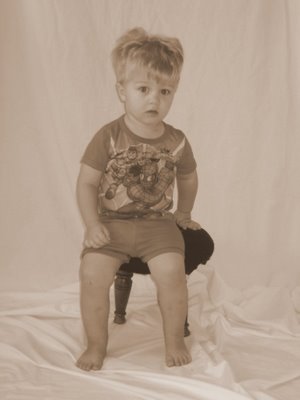 Jason, age 21 months
Jason just woke up from his nap and doesn't have a clue what's going on. And yes, those are the pajamas he was wearing when he woke up this morning. Why get dressed? It only creates more laundry.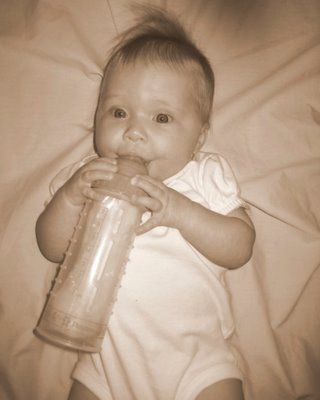 Rachel, age 6 months
She cooperatively gave me one of her sucking bottle poses. I look forward to when she can sit up.

So to all of you who see my kids at church each week. The evidence is out. I'm a total fraud.